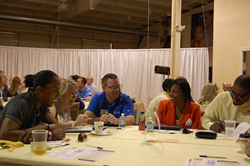 'AWOP may be small in numbers as marketplace leaders,' said Proudfit, 'but God has given us a great commission—to take weekend worshippers and make them marketplace ministers for Christ.'
Cincinnati, OH (PRWEB) July 29, 2014
At Work on Purpose (AWOP) of Cincinnati, Ohio has grown a faith-at-work organization that's ready to replicate itself worldwide—as it develops more Christian leaders to aid in the process.
That was the message this month at the 2014 AWOP leadership summit held at the BIZNISTRY® campus at Grace Chapel in Mason, Ohio.
AWOP, with offices in Blue Ash and Mason, Ohio, helps working Christians connect their faith and work lives, transforming their jobs into platforms for ministry.
AWOP founder and president Chuck Proudfit said AWOP needs to identify and develop strong spiritual leaders to expand its programs worldwide.
Keynote speaker Patrice Tsague of Nehemiah Project International Ministries, said AWOP is "building a tapestry of workplace entrepreneurs in the body of Christ" and complimented the organization's redemptive purpose and process. Tsague of Milwaukie, Ore., is a global thought leader on biblical entrepreneurship and created a curriculum in Biblical Entrepreneurship that is now considered a gold standard.
"One of the principles of biblical entrepreneurship is problem-solving," said Tsague, "finding solutions by agreeing to abide by God. By yielding your needs to God and trusting to God, you can find success. He's never early, but he's always on time."
Speakers included Ron Touby, director of Cincinnati Cru (formerly Campus Crusade for Christ) and Terry Grear, president of ScrogginsGrear accounting firm. A panel of local Christian business leaders consisted of Dave Lippert of Hamilton Caster & Manufacturing Co.; Sherri Lawson of Healthy Beginnings; and Drew Bachman, a CFO in transition. They spoke on how their belief in Christ keeps them calibrated in their careers.
Tsague announced that Proudfit will travel to Nairobi, Kenya next year to lead a national African conference on equipping Christian leaders for business entrepreneurship. Proudfit will teach entrepreneurs how to build businesses that adhere to biblical principles and dedicate excess profits to support church ministries and seed other, new businesses. This will be a starting point for launching At Work on Purpose on the continent of Africa.
Leaders from Ghana, Uganda, Madagascar, Rwanda, Nigeria, Sierra Leone, or the Congo can then return to their countries of origin and build BIZNISTRIES like those at Self-Sustaining Enterprises, Inc., a nonprofit located at Grace Chapel.
SSE supports the New2You thrift store; SkillSource Business Builders®; Trinity hair salon; the Mason Food Pantry; and Back2Back Ministries, which provide widow and orphan care worldwide.
While AWOP is centered in Cincinnati, it also operates in Dallas and Dayton and needs more "back leaders"—leaders who can disciple the AWOP mission and help expand its programs in other cities, explained Proudfit.
Proudfit said that of the one million people working in greater Cincinnati, of which 350,000 are Christian, only about 10,000, or one percent, consider themselves "faith-active" at work.
"AWOP may be small in numbers as marketplace leaders," said Proudfit, "but God has given us a great commission—to take weekend worshippers and make them marketplace ministers for Christ."
AWOP has 6,500 members, most located in greater Cincinnati.
Proudfit also announced the inauguration of a mentoring program at Cincinnati Christian University to help students develop careers that help them incorporate Christ in their work lives. AWOP is also developing a faith-at-work curriculum for high school and college students.
Proudfit then announced an annual AWOP award for a Christian marketplace leader who makes a significant contribution.
Larry Bourgeois received the first leadership award. Bourgeois was the director of the Old St. George Spiritual Retreat Center near the University of Cincinnati campus in 1996, when he met Proudfit and encouraged him over a period of years to expand his vision that became the AWOP organization.
"As I talked to Christian leaders about my vision, I knew I was being called, but they weren't seeing it," said Proudfit. "I felt there was a wall closing in around me. Larry was a doorway in that wall."
Bourgeois is director of Espresso Guild, which supplies coffee houses with espresso equipment, and Habitat for Community. He also supports community gathering places where conversations of consequence can foster community and spiritual renewal.
AWOP has developed and offered programs that encourage a culture of connectivity for workplace Christians over the past few years.
AWOP offers Biblical Entrepreneurship courses for CEOs and entrepreneurs; Neighborhoods Experiencing Transition (NET), a program dedicated to helping transform neighborhoods for Christ by taking care of the spiritual, relational, motivational and material needs of people; Marketplace Christians Making Connections (MC2), a Christian business networking group; BIZNISTRIES, which are sustainable, social enterprise businesses; 5 Capitals, a coaching group that empowers and equips Christians in the marketplace; and monthly AWOP leadership roundtable meetings for Christian marketplace leaders.
For more information about AWOP programs, go to http://www.atworkonpurpose.org or call (800) 513- 9580.
Contact:
Laura Jackson
Phone: (513) 477-2652
About At Work on Purpose:
At Work on Purpose is the nation's largest, city-wide, marketplace ministry. Based in Cincinnati, the nonprofit organization helps working Christians mobilize the work world for Christ by offering inspiring and proactive ways to help them integrate faith into their work, transforming their jobs into platforms for ministry.