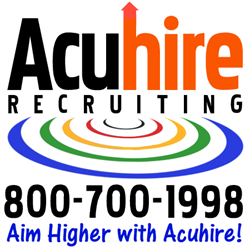 I like to keep my candidates working and happy. Good candidates really carry the reputation of my company.
CORPUS CHRISTI, Texas (PRWEB) August 05, 2014
With a philosophy that a happy candidate makes a happy client, executive search firm Acuhire has added a new service that will satisfy the needs of both parties. Acuhire, based in Corpus Christi, Texas, now has the ability to place contractors in addition to its traditional direct hire placements.
"Quite a few clients have asked for contractors over the years," said Brent Sheive, Principal at Acuhire. "They wanted us to be their go-to staffing source, and now we can be."
Serving a wide range of industries and disciplines, including Accounting, Business Development, Engineering, Human Resources, Insurance, and Web/IT, Sheive has found that contract staffing meets different needs for different types of clients. For instance, contract staffing allows his clients in the Petro Chem industry to bring in needed administrative help during peak periods without making a long-term commitment.
"If business slows down, they want to be able to reduce their staff with little expense and disruption," Sheive said.
The large insurance brokers Acuhire serves often utilize contract-to-direct arrangements, particularly for their administrative and customer service positions. In this scenario, the client evaluates a candidate on the job during a contract period before extending a direct hire offer.
"Even more than the quality of work, they are evaluating whether the candidate is going to fit into the corporate culture or whether they will instead disturb that culture," Sheive said. "The brokers also want to ensure that the candidate is happy within that culture. If they are not happy, they are not going to like coming to work, and they aren't going to advance."
More traditional contract staffing arrangements, where the employer is utilizing contractors to respond to business demands, complete a project, or meet a deadline, can also provide candidates with an unexpected level of job security. Because contract assignments usually have a tentative end date and Sheive is in regular contact with his clients, he is usually able to line up future contract staffing positions for candidates, keeping them actively working. This is in contrast to direct hire positions where layoffs can be sudden and devastating.
"I like to keep my candidates working and happy," Sheive said. "Good candidates really carry the reputation of my company. Once I have a history with a person, I know they are good and can personally vouch for them and go to bat for them."
Acuhire places its contractors through the contract staffing back-office services of Top Echelon Contracting, Inc. (TEC). By outsourcing the employment of his contractors to TEC, Sheive is able to provide contract staffing services while still focusing on the tasks his clients hire him for – identifying and recruiting the best talent for their specific needs. As the legal employer of the contractors, TEC handles all the legal, financial, and administrative aspects of the contract placement, including legal contracts with companies and candidates, background checks, timesheet collection and tracking, payroll processing and funding, unemployment, Workers' Compensation, benefits administration and ACA compliance, and more.
"I truly appreciate Top Echelon Contracting for the opportunity to add contract staffing to my business so I can give my clients a full-service agency to turn to," Sheive said. "I can serve many more clients and give them a full range of services."