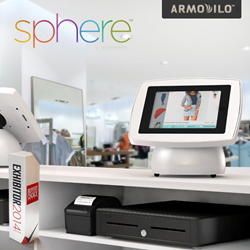 We're proud to be the only tablet stand manufacturer to offer true, multi-tablet compatibility on all of our tablet stand and tablet enclosure products
Waterloo, ON (PRWEB) July 28, 2014
"We're proud to be the only tablet stand manufacturer to offer true, multi-tablet compatibility on all of our tablet stand and tablet enclosure products", states Iles Guran, Founder and President. "With the complete redesign of our patent-pending Tablet Fit Kits we've continued our commitment to providing the most innovative tablet kiosk solutions for our clients. Our new Tablet Fit Kits are lighter, stronger and allow for a lot more accessibility to the tablet ports and buttons within the kiosk housings" adds Guran.
Armodilo's award-winning tablet enclosures support over 50 different tablet models off the shelf and can be customized for virtually any tablet from 7" up to 12.5" wide for only $49. Armodilo provides not only the most rugged and aesthetical solutions available on the market, but also the most flexible in terms of tablet support. Whether you're using an Apple iPad, Samsung Galaxy Tab, Microsoft Surface, HP, Dell, Google or other device, Armodilo can provide a tablet enclosure and mounting solution to meet any installation requirement.
About Armodilo Display Solutions
Armodilo Display Solutions is a multiple award-winning tablet enclosure, tablet stand and tablet mount manufacturer located in Ontario, Canada. With a variety of tablet display stands and accessories for trade show, event, retail and corporate markets, Armodilo sets itself apart by creating highly refined products for discerning brands around the world.
For more information about Armodilo, contact:
Iles Guran Founder & President
Armodilo Display Solutions
1-800-975-5946