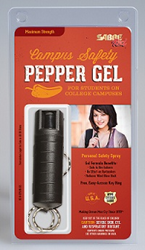 Chicago, IL (PRWEB) July 28, 2014
This year, an estimated 20 million college students will head to college campuses around the country. While they'll be anxious about many aspects of living on their own, their personal safety may not be a top priority. The 2014 Presidential Task Force estimates over 10,000 students will experience aggravated assault and robbery every year, and 20% of the 12 million women expected to attend college will become victims of sexual assault. These facts and figures do not include the other dangers facing students of all ages, or the other millions of people working at educational institutions such as faculty, administrators and other staff members. SABRE, the number one safety brand trusted by law enforcement agencies worldwide, is offering one solution to help keep school campuses safer.
SABRE Red's Campus Safety Pepper Gel formula was made with college students in mind. It's an extremely practical and effective way to incapacitate a threat without permanent injuries. SABRE Red's pepper gel formula is packaged for personal use and provides protection from a safe distance - up to 10 feet. Our key chain models make it easily accessible for college students on the go. For the classroom or larger crowd management, our professional pepper gel can reach to between 25 and 30 feet away.
Pepper gel only affects that which it comes into direct contact with the target. It doesn't become airborne and there are no secondary effects for bystanders. If the pepper gel were to be used in crowded areas, such as at an athletic event, a social gathering, or a classroom, the user doesn't have to worry about pepper spray being in the air, and people can escape with their eyes wide open. When used outside, the gel eliminates wind blow back so the user can feel comfortable using this in many different weather conditions.
Applied correctly, pepper gel comes into direct contact with the target covering their eyes and their face causing involuntary eye closure. This helps disrupt the attack giving people the opportunity to escape and possibly even help disarm the threat as we saw with the school shooting at Seattle Pacific University. On June 5, 2014, a campus security guard used his pepper spray correctly and was able to stop a shooter without causing any further loss of life.
About SABRE: SABRE Red Campus Safety Pepper Gel manufactured by family owned and operated Security Equipment Corporation, is the leading brand in personal and home safety, offering superior protection tools for professionals and consumers in any situation. The exclusive choice of the New York Police Department, Los Angeles County Sheriff's Department and the US Customs & Border Protection, this 39-year old brand empowers consumers with the same quality, safety and responsibility trusted as the #1 choice of thousands of police departments worldwide. Be Smart – Be Ready – Be Safe.
http://www.sabrered.com
http://www.sabrecollegesafetyprogram.com
http://www.sabrered.com/homeseries