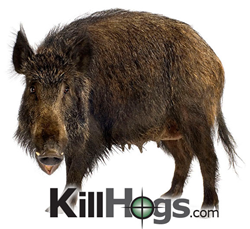 America's heartland is being devastated... we felt we had to do something to help the effort.
Las Vegas, NV (PRWEB) July 26, 2014
SPI CORP plans for the future of American farmers in the south by producing military grade thermal night vision scopes at a low cost as a solution to assist farmers' fight against feral hogs destroying everything they've worked for.
In an effort to aid farmers & ranchers in the lower United States in their campaign battling against feral hogs destroying their valuable crops and land, SPI Corp is relaunching their Killhogs.com website as a shingle of x20.org for the public to purchase thermal rifle scopes and night vision sights specifically to ease the difficulty in wild hog hunting.
SPI Corp has been a major manufacturer and distributor of thermal imaging solutions to our military, law enforcement, border patrol, and other government entities for over fifteen years. With their proven track record and state of the art thermal systems, outfitting hog hunters with night vision equipment is just another way infrared technology is improving our everyday lives.
"America's heartland is being devastated," according to Randall Kolchins, Director of SPI CORP. "We constantly get calls from farmers in the south, especially in Texas. These folks are losing their homes and livelihood over a bunch of wild pigs running around. We felt we had to do something to help the effort."
Feral pigs not only destroy crops, but they also spread nasty infections that may spread to other valuable livestock or even humans in some cases. "The pig problem here is no joke. They'll eat anything," says Roger Gaskins, a farmer whose lost countless crops to the destructive invading species. "They'll tear through a hundred acres in a few days if you let them. And they breed like rabbits." And for farmers, this is not good. According to the Texas Department of Agriculture, the "statewide annual economic damage caused by feral hogs is $500 million. And, unless aggressive control measures are undertaken, the feral hog problem is expected to worsen in the years ahead."
Since feral hogs are nocturnal animals, using thermal imaging scopes and night vision technology gives the farmers a technological edge over the destructive invaders. According to Jim Foley, CFO of SPI Corp, he couldn't be more thrilled to hear back from happy customers successfully defending their land against their unwelcome squatters. "Folks are always sending me pictures of their hunts, and thanking us for the help our thermal scope systems provide." He went on to joke, "yeah, the pictures are great, but invites to their barbecues would be better!"
SPI Corp firmly believes thermal scopes and infrared imaging technology should be readily available to everyone afflicted by the recent surge in invasive swine species. A specialized selection of hog hunting thermal scopes and night vision scopes are available on http://www.killhogs.com. Customers with an immediate need should contact Jim Santana at 702-369-3966 to discuss product options. To learn more about the technology itself, or SPI's wide variety thermal imaging systems, please visit http://www.x20.org.