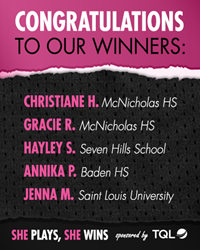 Cincinnati, Ohio (PRWEB) July 24, 2014
The winners of Total Quality Logistics (TQL) She Plays, She Wins, an initiative with three-time Olympic gold medalist and professional soccer player, Heather Mitts, are announced. Each young lady is receiving a $1,000 prize that may be used toward the purchase of team uniforms or an educational scholarship, made payable to the school they attend.
The winners, listed by age and category are:

13 to 15 Essay Winner: Christiane Hazzard; Student at Archbishop McNicholas High School; Sport: Softball
13 to 15 Video Winner: Gracie Rudolph; Student at Archbishop McNicholas High School; Sport: Volleyball
16 to 18 Essay Winner: Hayley Samson: Student at Seven Hills School; Sport: Ultimate Frisbee
16 to 18 Video Winner: Annika Pater; Student at Baden High School; Sport: Soccer
19 to 24 Essay Winner: Jena Moeller; Student at Saint Louis University; Sport: Volleyball
TQL teamed up with Mitts to recognize female student athletes in the Tri-state. Students submitted their best video or essay answering the following question: How have sports positively impacted your life and how do you think they will affect your future? Submissions were accepted from April through June. The submissions were narrowed down to the top finalists in each age category and the public voted on the winners during the month of July.
You can see all of the winning essays and videos on the She Plays, She Wins Facebook Page – http://www.facebook.com/sheplaysshewins.