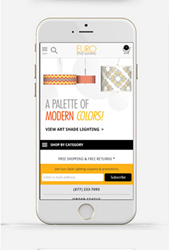 Los Angeles, CA (PRWEB) July 28, 2014
EuroStyleLighting.com announces the launch of a mobile site optimized for iPhone and Android devices. The Los Angeles based modern lighting and furnishings e-retailer developed the site to meet growing demand among home goods consumers for anytime-anywhere shopping.
With the Euro Style Lighting mobile website, customers can use their smartphones to browse, access saved wish lists and make purchases from the company's entire catalog of more than 30,000 lighting, furniture and home decor designs, all in a streamlined package. The site features mobile-friendly navigation and buttons sized for touchscreen use. Plus, images have been optimized for mobile use, resulting in page load times that are up to 20% faster than the desktop site.
"Mobility is a must for the home goods consumer," explains Edward Moffett, Internet Marketing Manager for Euro Style Lighting. "In simplifying the mobile browsing and buying process, we're simplifying the home decorating process too. With their phone in one hand and tape measure in the other, our customers can find the exact style and fit they need right on the spot, in the middle of a home decorating project."
The newly launched mobile site is the latest in a series of marketing initiatives in recent years by Euro Style Lighting – including an interior design blog and designer furniture and lighting recommendations – aimed at helping consumers shop for modern lighting and decor.
The Euro Style Lighting mobile site is viewable at: http://m.eurostylelighting.com/.
About Euro Style Lighting
Los Angeles based Euro Style Lighting is an online retailer specializing in contemporary lighting fixtures and lamps for the home. The company also offers furniture and home decor, ranging from today's newest designs to ultramodern style. The Euro Style Lighting buying team sources fashion-forward designs from across the globe to offer customers a collection of competitively priced products that emphasize aesthetic value, quality and – with a growing selection of LED and fluorescent lights – energy efficiency. Featured designers include Karim Rashid, Holtkoetter, Robert Sonneman, Jonathan Adler and more. More at EuroStyleLighting.com.