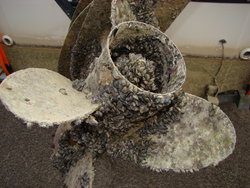 We wanted to help Joe/Jane Boat-Owner first.
Idaho Falls, ID (PRWEB) July 25, 2014
For boat owners, the tide is turning. 060Bio, LLC (http://www.060bio.com) has developed a device that repels both Zebra and Quagga mussels. They call the device Dock Disk™. It is a 7.5" soft foam disk that encloses the patented active ingredient and serves as the patent pending delivery system. After years of testing in various conditions, it is finally ready for distribution. The mussels repelling process begins when you get the package from 060Bio. Each Dock Disk™ comes with a hanging kit that includes an eye bolt to attach the device to a dock or slip, a 4' string or lanyard from which the Dock Disk™ is hung, and a small bag that hangs off the bottom of the disk. Screw the eye bolt just above the water line, put a couple of rocks in the bag for weight, and plunk the device into the water.
Water activates the patented active ingredient and the device goes to work. Mussels that are present will leave the area within 2 to 3 weeks. Mussels that are looking for a new place to park will stay away from the Dock Disk™. It requires no electricity and no power source. It works in all water conditions; stagnant to flowing water, warm to cold temperatures, heavy shade to full sun. Obviously, conditions do affect the effective range of the device. In testing in various bodies of water throughout the country, 060Bio reports the effective radius is anywhere from 6 to 10 feet. At 6', that's roughly 900 cu. ft. of water treated. At 10', that's over 7000 cu. ft.
"After we knew the patented active ingredient worked so well, we decided to design our first product for the benefit of the boating industry," says Paul Coxe of 060Bio. "There are so many industries affected by the invasive mussels, but we wanted to help Joe/Jane Boat-Owner first. This device gives them more time to have fun at the lake or the river, and more time to spend with family and friends. They won't have to worry about scraping the mussels off of their boats or PWC's. They won't have to worry about mussels fouling the engine. They won't have cuts and scrapes from the sharp mussel shells."
Almost all fresh bodies of water are someones' source of drinking water. That being said, many government officials get involved when one tries to introduce a repellent, even if, like the Dock Disk™, it does not kill anything. The EPA first defines what a "pest" is. Zebra and Quagga mussels are definitely pests. Then, they decide whether the particular repellent product is a "pesticide" or a "pesticidal device." The active ingredient in the Dock Disk™ was determined to be a pesticidal device, which simply means it has to be labeled properly. The EPA uses the Biotic Ligand Model to determine the toxicity of any substance on any flora or fauna. Long story short, the active ingredient in the Dock Disk™ passes the EPA's BLM test for all species, and meets EPA and FDA standards for potable water. In addition, the active ingredient in Dock Disk™ meets ANSI/NSF Standard 42 for drinking water.
Easy to use, safe for all applications, and, believe it or not, cost effective. One Dock Disk™ costs just $30 and can last up to 8 months. So for a 40' slip, one would place a disk in each corner and one half way down on each side for a total of 6. That's $180 for a mussel-free slip for up to 8 months – $270 per year, $22.50 per month, $0.75 per day, $6.75 per foot of slip per year. It is amazing how science can change lives – peace of mind, more time having fun, more time on the water. When the disk has spent 8 months repelling those hated mussels, simply pull up the old disk and snap in a new Dock Disk™. One can order the disks at http://www.060bio.com.
"Market research suggests that marina owners can use our product to offer a mussel-free slip to boat owners for a premium. That's a new profit center for them," says Dan Harwood of 060Bio. No doubt, the device will be a wonderful addition to a boat owner's experience. Sometimes, dreams do come true.