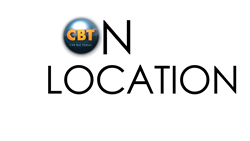 'On Location' allows viewers to get an up-close and personal view of top companies serving the automotive industry.
Atlanta, GA (PRWEB) July 25, 2014
CBT Automotive Network, the official news source of the retail automotive industry, is introducing a new show to its programming lineup called "On Location." The show will premiere Friday, July 25 on CBTNews.com with a behind-the-scene look at AutoTrader.com's corporate headquarters in Atlanta, Ga.
"'On Location' allows viewers to get an up-close and personal view of top companies serving the automotive industry," said Jim Fitzpatrick, president and founder of the news network. "It's just one more way to connect our viewers to the thought leaders in the business – to help keep their fingers on the pulse of the auto industry."
Chad Prosser, AutoTrader.com's ambassador, will give viewers a guided tour of the company's state-of-the-art facilities. Located in a 18-story, 390,000-square-foot office tower, AutoTrader.com is a subsidiary of The AutoTrader Group which is owned by Cox Enterprises.
About AutoTrader.com
Created in 1997, Atlanta-based AutoTrader.com is the Internet's ultimate automotive marketplace. As a leading resource for car shoppers and sellers, AutoTrader.com aggregates millions of new, used and certified pre-owned cars from thousands of dealers and private sellers and provides expert articles and reviews. AutoTrader.com, which also operates the AutoTraderClassics.com auto marketing brand, is wholly owned by Cox Automotive. Additionally, Cox Automotive owns Kelley Blue Book (KBB.com®), Manheim Auctions as well as companies that provide a full suite of software tools that help dealers and manufacturers manage their inventory and advertising online: vAuto®, HomeNet Automotive®, VinSolutions®, AIS Rebates™, Genius Labs® and Haystak™. Cox Automotive is a subsidiary of Cox Enterprises.
About CBTNews and Car Biz Today Magazine
CBT News/Car Biz Today is an online news source dedicated to providing the retail automotive industry with news, training and event coverage through various forms of multi-media journalism. The online news source has more than 25,000 subscribers made up of new car dealers and their personnel. CBT News is home to award-winning broadcasters and is headquartered in Atlanta, GA.
Car Biz Today Magazine is a monthly publication, reaching more than 17,000 new car franchises in North America. As with the website and newscast, Car Biz Today Magazine provides informative, upbeat and relevant information for retail automotive executives and their personnel. Learn more at cbtnews.com.