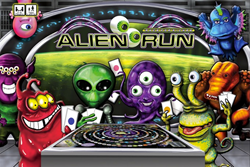 "Wow! This game is so wild and crazy. I'm sure our neighbors could hear us. What a blast! This game is in our top two." ~ Camille S.
Little Elm, TX (PRWEB) July 27, 2014
What is Alien Run? Alien Run is a fast-paced strategic board game full of bizarre twist and turns. You can either play independent or with allies. During the race, each player can be detoured by an opponent. The play of a Trump Card, Mystery Card, or landing on a Wormhole may send a player into a galactic U-Turn. The secret to success is strategy. The player with the most orbs wins the game. It may sound easy, but it's not. Strategic thinking will be challenged around every bend.
Game Features:

Alien Run is the fast-paced strategic board game that will have the entire family competing, buying, selling, plotting, and having an out of this world blast!
Featuring Trump Cards and special red die moves
Play with allies for a strategic edge
For 2 to 8 players
Ages 4 and up
Seniors beware ~ It's time to dust off the old thinking cap
Includes:

Game board
30 Mystery Cards
90 Trump Cards
8 Menu Cards
5 Orb Money Denominations (100 pieces)
2 White 6-Sided Dice
1 Red 6-Sided Die
8 Game Pawns
2 Page Easy Play Instructions
** PRE-ORDER - Marble Canyon Games releases Alien Run September 1st 2014!
How's it played?
Each Player begins the game without Orbs, Trump Cards or Mystery Cards. That's right, empty handed. Players can collect Orbs from either game spaces, other players, Trump Cards, or Mystery Cards. Players have the opportunity to purchase Trump Cards from the bank to add to their arsenal, however, there are purchasing rules. The Trump Cards are used for offensive and defensive plays during the game play. The secret to success is strategy, so keep the cards hidden and try to make some allies along the way. Remember, it's not about who finishes first but who finishes with the most Orbs. The enticing bonus structure maybe just what a player needs to finish in the lead and be declared the winner. So get the popcorn ready, four players can finish in forty-five minutes. Game night will never be the same.
Almost forgot, don't get distracted by the hidden images in the game board. What a player misses can send them orbiting in the wrong direction so stay focused and victory will be had.
Be the first to get it. Visit us at http://www.marblecanyongames.com.