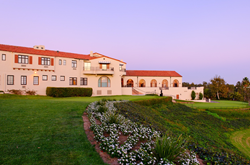 Pacific Palisades, CA (PRWEB) July 25, 2014
The Riviera Country Club will partner with the Wish Upon a Wedding organization to grant a dream vow renewal ceremony to a woman battling thyroid cancer and her husband.
Daymond and Iran will celebrate their marriage at The Riviera Country Club with a vow renewal ceremony and reception on July 25, 2014. Since 2012, Iran has undergone aggressive treatment and surgeries to fight Stage 4 papillary thyroid cancer. She draws strength from Daymond and their two children, a 16-year-old daughter and a 6-year-old son.
The Riviera Country Club's Director of Private Events, Ana Vick, commented: "We are honored that Daymond and Iran chose The Riviera Country Club and we are excited to help them create amazing memories on this special day. Our ambition is to bring their dreams to life with a gorgeous outdoor ceremony and an elegant ballroom reception celebrating their vow renewal."
Wish Upon a Wedding is a nationwide 501(c)(3) organization established in 2010 by Liz Guthrie, a former wedding planner and now the organization's Executive Director. It is the first non-profit organization to provide weddings and vow renewals to couples facing terminal illness and serious life-altering circumstances. To learn how you can become involved visit http://www.wishuponawedding.org.
The Riviera Country Club is the premier event venue in the Los Angeles area, offering a stunning venue complemented by inspired world-class cuisine and impeccable private club service.
The club's Crystal Ballroom provides sweeping golf course and ocean views, with crystal chandeliers, marble flooring and seating for up to 240 guests. The Grand Ballroom seats up to 300 with an outdoor terrace overlooking the first hole of the world-renowned golf course and tennis club. The club is also capable of hosting smaller, more intimate events in the George C. Thomas Room (named after the famed golf course architect), which provides the perfect setting for up to 70 guests. To learn more visit http://www.therivieracountryclub.com, or contact the Director Special Events, Ana Vick, directly by emailing avick(at)rccla(dot)com or by calling (310) 566-5341.