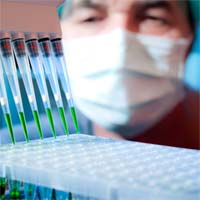 Particularly for the epithelioid type...the diagnostic accuracy of N-ERC/mesothelin [was] excellent.
Raleigh, NC (PRWEB) July 28, 2014
Scientists in Japan have completed initial tests of what they say is an improved blood test for the asbestos cancer mesothelioma. Surviving Mesothelioma has just posted an article on the new research. Click here to read it now.
Researchers in the Department of Respiratory Medicine at Tokyo's Juntendo University Graduate School of Medicine say a new test for the mesothelioma biomarker called N-ER/mesothelin is a step above the old test.
"Particularly for the epithelioid type [of mesothelioma], the area under the curve (AUC) and the diagnostic accuracy of N-ERC/mesothelin were excellent," reports study author Tadashi Sato.
The team tested the new 7-20 ELISA assay on suspected mesothelioma patients between 2005 and 2013. Their promising results were published in a recent issue of Cancer Medicine.
"If the improved accuracy of this test is confirmed, it could be an important advance, not only for identifying future cases of mesothelioma, but also for gauging the effectiveness of treatment," says Alex Strauss, Managing Editor of Surviving Mesothelioma.
To learn more about the new mesothelioma blood test, including the statistics on its accuracy, see New Blood Test May Improve Diagnostic Accuracy for Mesothelioma, now available on the Surviving Mesothelioma website.
Sato, T et al, "Newly established ELISA for N-ERC/mesothelin improves diagnostic accuracy in patients with suspected pleural mesothelioma", Cancer Medicine, June 10, 2014, Epub ahead of print, http://onlinelibrary.wiley.com/doi/10.1002/cam4.297/full
For nearly ten years, Surviving Mesothelioma has brought readers the most important and ground-breaking news on the causes, diagnosis and treatment of mesothelioma. All Surviving Mesothelioma news is gathered and reported directly from the peer-reviewed medical literature. Written for patients and their loved ones, Surviving Mesothelioma news helps families make more informed decisions.