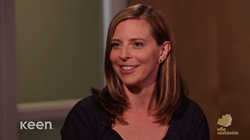 We hope these interviews will provide behind the scenes insights into how to achieve greater impact to marketing professionals world-wide. - Alan Hart, Managing Partner at Keen Strategy
Raleigh, NC (PRWEB) July 29, 2014
Keen partnered with Effie Worldwide to conduct the interviews at the 2014 North American Effie Awards Gala in June, where all of those profiled were award recipients. The high-profile group includes marketing experts at Pepsi, Expedia, Oscar Mayer, AT&T, Johnson & Johnson, and Diageo. The full interviews are now available for viewing at http://www.keenstrategy.tv and will be distributed by Effie to the industry's most influential agency and client-side executives, with their reach expanding through web and social media channels.
"Effie Award winners represent marketers at the top of their game – the ones who have created and executed the right formula to achieve marketing effectiveness," said Neal Davies, President and CEO of Effie Worldwide. "They are the ones we want to learn from, and we are very excited to be sharing that learning with the industry."
Keen approached the interviews with the intention of gaining insight into best practices and marketing effectiveness, as well as sharing advice on the most important drivers of marketing today, but found the final product to contain even more depth.
"We hope these interviews will provide behind the scenes insights into how to achieve greater impact to marketing professionals world-wide," said Alan Hart, managing partner at Keen, who conducted the on-camera interviews with the six marketing professionals. "The thousands of people who now have access to these videos are going to find practical ideas to further their own work in so many areas – from market research to marketing mix to digital marketing."
###
About Keen Strategy
Keen is a new breed of firm: a software-enabled strategic consultancy. We combine next generation decision analytics with a practical, outcome-based mindset to help managers make effective, proactive decisions about their business. Keen works with clients who believe in the power of the next leap forward. Our areas of expertise: brand strategy, customer strategy, marketing forecasting & optimization, and trade deal optimization.
About the Effie Awards
The Effie Awards are known by advertisers and agencies globally as the pre-eminent award in the industry, and recognize any and all forms of marketing communication that contribute to a brand's success. Since 1968, winning an Effie has become a global symbol of achievement. Today, Effie celebrates effectiveness worldwide with the Global Effie, Effie Asia-Pacific, the Euro Effies, the Middle East/North Africa Effies, the North American Effies and more than 40 national Effie programs.