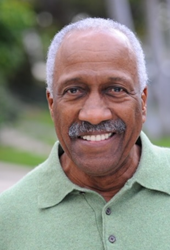 'Only Just A Minute' is powerful and very well done; well written and well-acted. I didn't realize the important role that Benjamin Mays played in the life of Dr. King.
Atlanta, GA (PRWEB) July 26, 2014
One of the most dynamic leaders of the American Civil Rights Era comes face to face with his own legacy, and that of his beloved protégé, in a powerful new theater production. Only Just A Minute juxtaposes the lives of scholar Benjamin E. Mays with that of charismatic young leader Martin Luther King, Jr. at the crossroads of American history, as it examines the important events that helped shaped America and the promise of things to come.
Only Just A Minute opens in Atlanta on August 20, 2014 for a four day run at the Ray Charles Performing Arts Center at Morehouse College located at 900 West End Avenue, Atlanta, GA. Performances are scheduled through August 23, 8 p.m. nightly and a Saturday matinee at 3 p.m. The production then moves to the Southwest Arts Center at 915 New Hope Road in Atlanta, where it runs from August 27 through September 7, with performances on Wednesday through Sunday at 8 p.m. and a 3 p.m. matinee on Sunday.
Inspired by the life and times of Dr. Mays, long time president of Morehouse College and mentor to Dr. King, Only Just A Minute is the potent story of how Mays comes to terms with the violent loss of his colleague and friend, while holding on to his non-violent philosophies. In the wake of King's death, Mays, still grieving and questioning long-held beliefs, must confront the stirring unrest among young Blacks weary of the long struggle for equality. Young reporter Max Mitchell, more persuaded by the aggressive politics of Malcolm X and Bobby Seale, questions Mays about everything he's stood for, challenging the virtues of non-violence and whether peaceful protest could ever achieve change. As the debate between the legend and the young lion grows, Mays realizes what's at stake… the hopes and dreams of the next generation. In the end, with encouragement from Mays, Max is left to decide what he will tell the world about the Civil Rights Movement and its legacy.
Thursday, August 21, is student night; any student, with student ID, is eligible for a $25 ticket. In addition, a limited number of free tickets are available to students and can be picked up at the box office on the night of the performance. The public is asked to sponsor students by purchasing tickets—more information about "sponsored tickets" is on the Only Just A Minute website.
The show is produced by Morehouse graduate Bob Dockery, written by Aaron Henne including text and characters by Levy Lee Simon and directed by Atlanta's own Tom Jones. Willie Carpenter, of Lifetime TV's Devious Maids, performs the title role of Benjamin E. Mays.
Tickets are available for purchase online at http://www.onlyjustaminute.com, or by phone at 626-8MYSEAT (626-869-7328). Student, Group and Senior rates are available. Opening night "Gala" tickets are $100 which includes a $55 donation to the Morehouse Board Opportunity Fund -- a financial aid resource to upperclassmen who need tuition assistance.
A reading of Only Just A Minute was held at the Southwest Arts Center where Helena Carter, a patron of the arts, said, "It was powerful and very well done; well written and well-acted. I did not realize the important role that Benjamin Mays played in the life of Dr. King."
About the Cast of Only Just A Minute
Willie Carpenter can be seen in a recurring role on the Lifetime Channel's Devious Maids, Sundays at 10pm. He also guest stars on Sundance Channel's Rectify and just wrapped on the upcoming film The Adderall Diaries, starring James Franco. Willie has performed on Broadway and at several regional theatres around the country. He's been seen in many commercials, TV shows and movies including, Men in Black, The Insider, The Best Man, and Hard Target. Other cast members include: Enoch King as Max Mitchell (the reporter); G. Darnell as M. L. King, Jr.; and Brad Raymond as Daddy King and Hezekiah Mays.
About the Managing Member
As a child, Bob Dockery's parents would tell him, "There is no such thing as 'can't' in the Dockery family." Armed with that indomitable will to succeed, Bob has forged a string of amazing accomplishments into a legacy that inspires and illuminates the human possibilities. In 1980 Bob formed S. I. Communications, a television and radio production company. Most of the over 200 radio and television programs he produced have been about African American lifestyle and culture, including several about Benjamin E. Mays and Martin Luther King, Jr. Still, Bob had to satisfy his lifelong itch to produce stage plays.
Dockery graduated from Morehouse College in 1966, one year before Benjamin Mays retired as President. Inspired by the many speeches and teachings of Dr. Mays, Dockery decided to create a play about the relationship between Mays and Martin Luther King, Jr., who had attended Morehouse under Mays, from 1945 to 1949. The play, although in some parts fictional, is based on actual events in Dr. Mays' life, obtained from various research sources, including Dr. Mays' speeches, writings, and books.
About the Director
Thomas W. Jones II (Writer / Actor/ Director) has directed, written, and performed in more than 200 plays worldwide. In 1978, Tom founded Jomandi Productions, where, as Co-Artistic Director and Producing Director, Tom led Jomandi to become the third largest African-American theatre company in the United States. His work as writer, director, and actor has been acclaimed nationally and internationally. His work has received 48 Washington DC Helen Hayes Award nominations, winning 15 awards, including Best Director for Samm Art Williams' Home and his own Bessie's Blues. He has also received 3 New York Audelco Award nominations, the Dramalogue Award, the San Diego Critics Award, NAACP Phoenix Award, among others. In 2000, Tom and his co-founders left Jomandi to create the entertainment company VIA International Artists, Inc. and subsequently a musical theatre company VIA Theatrical. His most recent works include Three Sistahs, Point of Revue, Two Queens One Castle, Bricktop, Heart 'n' Soul, Love Johnny, A Cool Drink A Water, Holler and Sheddin'. Tom's new musical Cool Papa's Party completed a workshop in New York with Wayne Brady. He is currently working on several exciting projects for 2014.