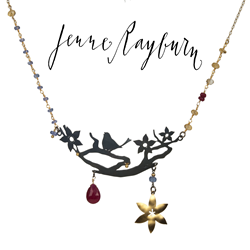 An opportunity to shop local and support a vidal part of our local arts community and economy.
Lexington, MA (PRWEB) July 25, 2014
Massachusetts studio jeweler and designer Jenne Rayburn is among the jewelry artists exhibiting works at The Artisans' Market, an annual sale of local artists' work in Lexington, Massachusetts. The Lexington Arts and Crafts Society's 10th Annual Artisans' Market opens Saturday, July 26th, and runs through August 17th. The Society Gallery is located at 130 Waltham Street in downtown Lexington, Massachusetts. Gallery hours are Monday through Saturday 10AM - 4PM and Sunday 12PM - 4PM.
Featuring new handcrafted jewelry from Rayburn's Dreamings Collection, metalsmith and enamel artist Jenne Rayburn is an enthusiastic supporter of local arts and artists. "The annual summer market is a great opportunity for customers and browsers to get to know a talented group of artists from many of the Society's ten guilds," notes Rayburn. "It is a unique local event that enables us to meet both neighbors and tourists, and talk about our passion, which is also the work for sale."
Jenne Rayburn is a member artist of the Metalworkers Guild at The Lexington Arts and Crafts Society. Membership in the Guild is by a jury process, and is for the lifetime of the juried member. "I am thrilled to participate in this annual event and support the LACS," said Rayburn. "Art and fine craft that is being made in artist collectives such as the LACS supports a vital part of our local community and economy, ensuring that there is a home for artistic pursuits and creative innovation."
Long known for promoting work by local artists living in Massachusetts and New England, exhibits at The Lexington Arts and Crafts Society showcase a range of artists across 10 guilds that create beautiful, quality work. The Lexington Arts and Crafts Society's unique community, facility and resources enable local artists to practice their craft, learn new skills and sell their creations at the Society's art gallery, which offers for sale original art and handmade crafts by local member artisans. With nearly 400 members, in ten guilds, the Lexington Arts and Crafts Society has provided a place where artists can gather, work, inspire one another and keep craft traditions alive for over 77 years.
The Lexington Arts and Crafts Society houses a gallery to showcase the works of the artists of the Society. For more information, go to:
The Lexington Arts and Crafts Society
130 Waltham Street Lexington MA 02421
Phone: (781) 862-9696
http://www.lacsma.org
Visit Jenne Rayburn's collections: http://www.jennerayburn.com.
Visit Jenne Rayburn on Facebook: http://www.facebook.com/Jenne.Rayburn.
About:
Jenne Rayburn is a Boston-based jewelry/textile artist who also studied interior design and architecture, and her work explores the convergence of architecture, design, technique and identity. Balancing the demands of a career and a growing family, Jenne is a mother, wife and daughter who designs for all the women in her life who want to feel uniquely beautiful and powerful. It is her hope that the wearers of her pieces will find joy in a delightful artistic statement, and also something that enhances their individuality and confidence. Her work is suitable for wedding jewelry and is carried in local galleries and online.