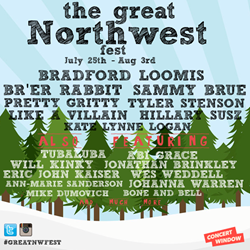 I am honored to be featured as a voice from the northwest.
Seattle, WA (PRWEB) July 29, 2014
Powerhouse freak folk northwest songwriter Hillary Susz is taking part in Concert Window's Great Northwest Fest Friday, August 1st. Susz will be live streaming online for fans from all over the world to enjoy.
Fans may request songs, begin a live discussion and review the show here. This unique platform allows fans to interact with the artist and name their own ticket price.
"I am honored to be featured as a voice from the northwest," Susz comments. "Thank you, Concert Window!"
Susz's songs take influence from a multicultural array of genres, including jazz, flamenco, rock, indie pop, R&B and soul. Her willingness to take cues from a variety of styles makes her a thoughtful musician. Susz's compositions combine the abstract nature of music with the narrative of poetic language. Her lyrics are held together by her very particular sensibility. They make poetic leaps that in a lesser writer's hands would appear simply jumbled, but that Susz turns natural and organic with the power to evoke the same surprise and often wonder of epiphany.
She is a singer songwriter stretching herself to explore new musical territory while at the same time exploring her soul in the most personal and compelling manner. People who worry that art in popular music has given way to trite thought and hyperbolic vocal stylings can find hope in Hillary Susz, who possesses heart, soul, and, most significantly, a mind, as well as a sense of humor.
Tune into Hillary Susz's performance as part of Concert Window's Great Northwest Fest Friday, August 1st at 6:30PM PST. https://www.concertwindow.com/shows/7204-great-northwest-fest-hillary-susz
View the Facebook event here: https://www.facebook.com/events/1440081122943676/
About Hillary Susz
Hillary Susz is a Western Washington University graduate in creative writing. Her voice has been described as a "powerhouse" and her songs as "unusual and beautiful" by What's up Magazine and as "emotional, spiritual, and intellectual and vibrant" and in her capacity as a songwriter she "can make shape out of abstractions and then fill that shape with what can only be described as truth," The Spokesman Review.
Hillary Susz currently lives in Washington State. Her discography includes: What Mouths are Made For 2013, Hot Heart 2012, Junk Yard 2011, The Stare Well Sessions 2010, Love is Perfect 2009. Her most recent What Mouths Are Made For is a pop album that both embraces and reinvents the term. This compilation delivers songs that are intelligent, confrontational, and often just plain fun, too boot.
Learn more at hillarysusz.com
About Concert Window
Concert Window provides a platform for music lovers to enjoy live shows anytime anywhere. Concert Window subscribers can browse hand-picked selections of shows, watch a few minutes for free, discover and support artists, and view shows from a computer, tablet or smartphone.