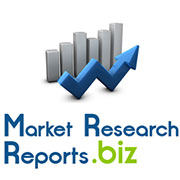 Albany, NY (PRWEB) July 25, 2014
Capacity and Capital Expenditure Outlook for Refineries in the Middle East - Saudi Arabia and Iraq to Drive Refinery Capacity Growth is the essential source for industry data and information relating to the refining industry in Middle East. It provides asset level information relating to active and planned refineries in Middle East. The details of major companies operating in the refining industry in Middle East are included in the report. The latest news and deals relating to the sector are also provided and analyzed.
View full report at http://www.marketresearchreports.biz/analysis/213204.
This report is built using data and information sourced from proprietary databases, primary and secondary research and in-house analysis by GlobalDatas team of industry experts.
Scope

Updated information relating to all active and planned refineries
Provides historical data from 2005 to 2013, forecast to 2018
Information on refining, FCC, hydrocracking and coking capacities by refinery and country
Provides operator information for all active and planned refineries
Information on the top companies in the sector including business description and strategic analysis. Key companies covered are National Iranian Oil Refining and Distribution Company, Saudi Arabian Oil Company and Kuwait National Petroleum Company K.S.C.
Product and brand updates, strategy changes, R&D projects, corporate expansions and contractions and regulatory changes.
Key mergers and acquisitions, partnerships, private equity investments and IPOs.
Download detail report with complete TOC at http://www.marketresearchreports.biz/sample/sample/213204.
Reasons to buy
Obtain the most up to date information available on all active and planned refineries in Middle East
Identify growth segments and opportunities in the industry.
Facilitate decision making on the basis of strong historic and forecast refinery and unit capacity data.
Assess your competitors refining portfolio and its evolution
Understand and respond to your competitors business structure, strategy and prospects.
Develop strategies based on the latest operational, financial, and regulatory events.
Do deals with an understanding of how competitors are financed, and the mergers and partnerships that have shaped the market.
Identify and analyze the strengths and weaknesses of the leading companies in Middle East.
Related Reports
Green Energy (Solar PV, Wind Energy, Hydroelectric Power, Bio-Fuels, Geothermal Energy) Market - Global Industry Analysis, Market Size, Share, Growth, Trends And Forecast, 2013 - 2019
There has been an increased emphasis on the need for green, renewable and sustainable energy sources globally. Rise in demand has been due to growing concern to protect the environment from pollutants such as greenhouse gases and issues related to energy security. Various factors driving the growth of green energy include environment concerns, government regulations and initiatives, coal plant retirements, need for natural gas hedging, rising demand for energy and fuel shortage/replacement.
The research study titled "Green Energy Market - Global Industry Analysis, Market Size, Share, Growth, Trends, and Forecast, 2013 – 2019" focuses on green and renewable energy resources. It offers market data and insights including the size and growth of different green energy types.
View Full Report With Complete TOC at http://www.marketresearchreports.biz/analysis/140481
Bio-Refinery Products Market - Global Industry Analysis, Size, Share, Growth, Trends And Forecast, 2013 - 2019
Bio-refinery utilizes biomass conversion equipment and processes in order to produce fuels, chemicals, power and heat from biomass. The bio-refinery concept is equivalent to present petroleum refineries, which produce numerous products and fuels from petroleum. The International Energy Agency (IEA) defines bio-refining process as sustainable conversion of biomass into useful bio-based products. Additionally, with production of several products in a single process their intermediates; bio-refinery maximizes the value of production. Hence, these added value increases the profitability of bio-refinery products. Bio-refinery produces various products such as chemicals, materials, food and feed. There are basic two categories of bio-refined products namely, energetic and non-energetic products.
View full report at http://www.marketresearchreports.biz/analysis/196274.
About Us
Marketresearchreports.biz is the most comprehensive collection of market research reports. Marketresearchreports.biz services are especially designed to save time and money of our clients. We are a one stop solution for all your research needs, our main offerings are syndicated research reports, custom research, subscription access and consulting services. We serve all sizes and types of companies spanning across various industries.
Browse Blog - https://marketrelease.wordpress.com/