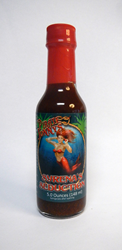 Pirate Jonny's continues to show its quality through receipt of awards thereby proving excellence for customer satisfaction.
(PRWEB) August 11, 2014
Hot sauce has become a niche market in the sauce world and according to the IBIS (global business intelligence leader specializing in Industry Market Research). "The condiment is rapidly gaining popularity with the American public. As Americans' palates have become more diverse, hot sauce has earned tenure on the dinner table." The incentive: a small jolt of capsaicin in hot sauce excites the nervous system into producing endorphins, which promote a pleasant sense of well-being", says a representative of IBIS.
Pirate Jonny's Caribbean BBQ Rubs, Seasonings & Sauces produced its first Hot Sauce called Syrena's Seduction Jerk Hot Sauce and submitted it to the Louisiana Hot Sauce Festival just this past July, 2014.
Ken Alexander, of Fiery World.com and one of the Head Judges of the World Hot Sauce Awards presented the list of the winners of the inaugural World Hot Sauce Awards. "The awards ceremony was held at the Lafayette, La Acadian Center, and the site of the Louisiana Hot Sauce Expo."
"The winners were selected by approximately 30 judges from across the country, including executive chefs, restaurant owners, elected officials, beauty queens, hot sauce industry experts, and enthusiasts!"
Syrena's Seduction Hot Sauce, made with Pirate Jonny's National Barbeque Association Award Winning Jamaican Jerk Seasoning, took 1st place in the Caribbean category. Ken Alexander stated, "the judges tasted 582 separate samples and each category had multiple judges. The awards are listed by division and category".
Syrena's Seduction also received an award for the label art created by founder, owner, Jonathan Toner aka, "Pirate Jonny". This is the second award Pirate Jonny's has received for label art which also includes the Chef Flasks for those who want that unique item.
Pirate Jonny's produces product blends that make cooking easy by eliminating alot of preparation in the kitchen. Its products are all natural, Gluten, MSG free and low sodium. The updated website is more user friendly on mobile sites, for purchasing, and includes more recipes along with healthy ingredient explanations of their products. It is also updated to show the new additions of Fajita Cariba, all purpose seasoning, and Syrena's Seduction. Pirate Jonny's continues to display excellence for the consumer in providing dry blends and specialty sauces that make cooking easy, flavorful and delicious. For recipes, locations, ingredients of the products see Pirate Jonny's website.