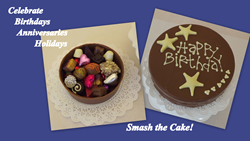 Norwalk, CT (PRWEB) July 25, 2014
For the past two years, Chocolate Rain Shop has been providing the Norwalk, CT community with delicious chocolates, pastries and other fantastic treats. On Aug. 2, the chocolate shop will be celebrating their second anniversary and is offering a new product and a special discount in honor of the occasion.
To mark the special occasion, Chocolate Rain Shop is featuring a new product called the Piñata chocolate cake. These are hollow dark or milk chocolate cakes filled with artisan handcrafted chocolates. Smash open the cake with a wooden mallet and reveal the many chocolate pieces inside. These chocolate cakes are perfect for birthdays, anniversaries, holidays and other special occasions, and they start at $69.
Throughout the month of August, Chocolate Rain Shop is offering a special 20 percent discount on all items in the store. This does, however, exclude special orders, afternoon teas and parties. Now is the time to stop in to the shop and try one of their many scrumptious treats – at a discounted price.
Chocolate Rain Shop invites all their customers to join them in celebrating their second anniversary. Try one of the Piñata chocolate cakes or one of their other fine chocolate products. Chocolate Rain Shop offers all sorts of handcrafted chocolate products, and their selection continues to grow. Chocolates make great gifts and are perfect for special events.
Chocolate Rain Shop is located at 69 Wilton Ave., Norwalk, CT 06852. Stop in to the shop today, give them a call at 203-956-6000 or visit them online at http://www.chocolaterainshop.com/.
<br>About the company:<br>Chocolate Rain Shop offers a wide variety of handmade artisan chocolates, chocolate-covered strawberries, chocolate gift baskets, popular French Macrons, and cakes at their cozy shop where patrons are welcome to sit and enjoy a cup of gourmet hot chocolate, coffee or enjoy an afternoon English tea. Chocolate Rain Shop is located at 69 Wilton Ave. Norwalk, CT 06851. Call today at (203)956-6000. They deliver locally and ship nationally.