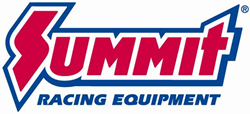 Tallmadge, OH (PRWEB) July 26, 2014
Penrite has been making engine oil and lubricants since 1926, and is the number one-recommended oil in Australia. Summit Racing now carries Penrite synthetic and mineral-based oils, lubes, brake fluid, and cleaners for its American customers.
10 TENTHS SYNTHETIC RACING OIL
Penrite 10 Tenths Racing Oil is a premium, full synthetic engine oil. It contains large amounts of zinc (exceeding 2,200 ppm) for ultimate engine wear protection. The shear- free formulation eliminates viscosity loss and maintains oil pressure during extreme engine operating conditions. The oil is ideal for naturally aspirated, supercharged, and turbocharged engines.
Available Viscosities: 0W20, 0W50, 5W30, 5W60, 10W40, 10W70, 15W50, 20W60.
HPR SYNTHETIC ENGINE OIL
Ideal for high performance street-driven vehicles, HPR Synthetic Engine Oil combines a high level of zinc with the latest additive technology and a low shear rate viscosity modifier. That combination ensures additional protection against wear, corrosion, oxidation, piston deposits, and sludge.
HPR comes in slightly heavier weights than "regular" oil based on the extreme operating conditions found in Australia. For example, Penrite offers a 10W50 grade instead of 10W40. That means as the oil gets hot, it still retains excellent film strength for better wear protection.
Available Viscosities: 0W30, 5W40, 10W50, 15W60.
SUPER DOT 4 BRAKE FLUID
Super DOT 4 Brake Fluid is a non-silicone, full synthetic brake fluid designed for use in a wide range of brake and hydraulic clutch applications. It is recommended for vehicles that use either DOT 3 or DOT 4 fluid. The high (525 degrees F) wet boiling point ensures retention of stopping power over the life of fluid. Super DOT 4 is compatible with all common brake system materials.
BREAK-IN OIL
Called running-in oil in Australia, this premium mineral-based oil has a high level of zinc for ultimate engine wear protection during the break-in of rebuilt or new crate engines. The formulation protects camshafts, lifters or followers, rockers and pushrods, and allows the piston rings to bed in correctly with the cylinder walls. The 15W40 weight oil can be used on engines where SAE 15W40, 20W40, 20W50 & SAE 30 grades are specified. Penrite Break-In Oil is ideal for both dynamometer and road break-in procedures.
Summit Racing also carries Penrite synthetic and mineral-based engine oils for motorcycles and diesel engines; gear oil; fuel injection cleaner; motorcycle air filter cleaner; and stop-leak for radiators, power steering, and automatic transmissions.
SEE ALL PENRITE PRODUCTS AT SUMMIT RACING
Summit Racing Equipment
http://www.SummitRacing.com
1-800-230-3030