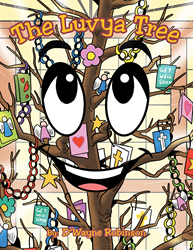 Love is best expressed through actions, not just words.
Canfield, Ohio (PRWEB) July 28, 2014
When dealing with a serious illness, patients and their families can feel helpless, as if there's nothing they can do.
The Luvya Tree is a message of hope and faith for children and adults with family members struggling with serious illnesses. Uniquely written from a tree's perspective, the book tells the true story of how author D'Wayne Robinson and his son comforted Robinson's wife toward the end of her battle with breast cancer and gives readers a creative way to comfort their own ailing family members.
"Throughout my wife's illness, she received hundreds of cards, letters, hand-made crafts and numerous other tokens of love, so many that there just wasn't enough table and shelf space to display everything. We cut down a tree, brought it in the house, and placed the items on its branches so Teresa could see just how much she was loved and how many people were praying for her," Robinson said.
Robinson wrote the book to share his family's real-life story, pay homage to his wife, and bring honor and glory to God.
"Love is best expressed through actions, not just words. The Luvya Tree gives families a way to take action and show their loved ones just how much they are cherished," Robinson said.
For more information and Luvya Tree merchandise, visit http://www.luvyatree.com.
The Luvya Tree
By D'Wayne Robinson
ISBN: 9781490832173
Available in softcover and e-book
Available on Amazon, Barnes & Noble, WestBow Press, and author's website
About the author
D'Wayne Robinson is a Christian father, widower, and Fortune 200-trained business professional and entrepreneur. He and his teenage son, Jared, live in Canfield, Ohio.
# # #
**FOR IMMEDIATE RELEASE**
For review copies or interview requests, contact:
Jaymie Shook
317.602.7137
jshook(at)bohlsengroup(dot)com