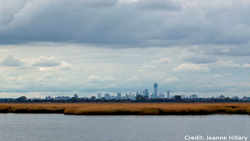 Before these modifications are made to prevent flooding we need to know whether or not they'll weaken Jamaica Bay's natural flushing with nearby open ocean waters.
Hoboken, NJ (PRWEB) July 25, 2014
$700,000 Designated as Part of Funding Awarded to Science and Resilience Institute at Jamaica Bay
For most people, Superstorm Sandy was a wake-up call that something needs to be done to adapt our urban coasts to the threat of coastal flooding, which is only expected to worsen due to sea level rise and climate change. A recent MarketWatch report said the value of homes vulnerable to coastal flooding in New York City metropolitan area alone was estimated to be $250 billion. However, making sure protective measures are done the right way is of dire importance, not only in mitigating storm surge, but also in ensuring water quality is not harmed in the process.
Three Stevens Institute of Technology professors in Hoboken, NJ are working to ensure just that, as they are receiving $700,000 in funding to study the impact coastal manmade adaptations will have on the water quality in Jamaica Bay, NY. Professors Philip Orton, Alan Blumberg and Georgas Nickitas see this as a real need.
"There's already a lot of pollution in Jamaica Bay's watershed," said Orton. "Before these modifications are made to prevent flooding we need to know whether or not they'll weaken Jamaica Bay's natural flushing with nearby open ocean waters."
Adaptations to coastal flooding include projects such as storm surge barriers or the creation of wetlands or islands to reduce flooding and block waves.
"Municipalities across the region are moving quickly to shore up their coastal defenses," said Blumberg. "We are excited to be able to help quantify the efficacy of these defenses, as well as their effects on water quality, with our computer modeling."
The professors, along with partner Mr. James Fitzpatrick of HDR (formerly HydroQual), will conduct the two-year study using a computer model that simulates the physics and chemistry of the bay's waters, within which they can manipulate the landscape to add barriers, wetlands, and other protective features.
The project is among nine others supported by The Science and Resilience Institute at Jamaica Bay (SRI), a research consortium led by The City University of New York (CUNY), which was recently awarded $3.6 million from the Department of the Interior's Hurricane Sandy Mitigation Funding.
"The Institute's mission is to increase understanding of how disturbances impact natural and human systems in urban water sheds through resiliency-focused research of Jamaica Bay, and to engage government and community stakeholders in the translation of that knowledge toward a more resilient system" said Gillian Small, CUNY Vice Chancellor for Research. "This new funding from The Department of the Interior will significantly advance that mission."
About Stevens Institute of Technology
Stevens Institute of Technology, The Innovation University®, is a premier, private research university situated in Hoboken, N.J. overlooking the Manhattan skyline. Founded in 1870, technological innovation has been the hallmark and legacy of Stevens' education and research programs for more than 140 years. Within the university's three schools and one college, more than 6,100 undergraduate and graduate students collaborate with more than 350 faculty members in an interdisciplinary, student-centric, entrepreneurial environment to advance the frontiers of science and leverage technology to confront global challenges. Stevens is home to three national research centers of excellence, as well as joint research programs focused on critical industries such as healthcare, energy, finance, defense and STEM education and coastal sustainability. The university is consistently ranked among the nation's elite for return on investment for students, career services programs, and mid-career salaries of alumni. Stevens is in the midst of implementing a 10-year strategic plan, The Future. Ours to Create., designed to further extend the Stevens legacy to create a forward-looking and far-reaching institution with global impact.
About the Science and Resilience Institute at Jamaica Bay
The Science and Resilience Institute at Jamaica Bay (SRI) is a joint initiative among the National Park Service, the City of New York, and a consortium of nine top-tier research institutions. Led by City University of New York, the consortium includes Columbia University, Cornell University, the Institute of Marine and Coastal Sciences at Rutgers University, NASA Goddard Institute for Space Studies, New York Sea Grant, Stevens Institute of Technology, Stony Brook University (SUNY), and the Wildlife Conservation Society. The SRI will host visiting scientists, provide lab facilities for students and researchers, and convene events to share and disseminate their findings. It will not only coordinate and lead resilience research; it will contribute toward science-based policy to ensure the sound management of the Bay. Those policies will in turn serve as a model for cities around the world.
The SRI developed out of a cooperative agreement between the City of New York and the National Park Service that was signed in 2012 by the Mayor of New York City and the Secretary of the Interior. The agreement was designed to restore and revitalize Jamaica Bay-Rockaway Parks; and develop a joint vision for a new "great urban park" that could serve as a model both nationally and internationally; and establish the Jamaica Bay-Rockaway Parks Conservancy to support these ambitious efforts.