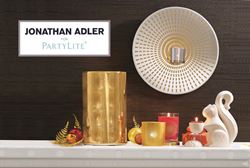 These stunning candle holders, pottery pieces and brand new fragrances bring a sense of luxury and excitement to any home, anywhere in the world. -Rob Goergen, PartyLite Worldwide President
Plymouth, MA (PRWEB) July 28, 2014
What happens when the world's #1 party plan candle company teams up with an iconic potter, designer and author? Candle lovers the world over get to celebrate the fall holiday season in great New York style!
Introducing the brand new Jonathan Adler for PartyLite® Collection.
PartyLite – whose world-class candles, candle accessories and fragranced home décor are sold around the globe – is unveiling its new designer collection, created by Jonathan Adler. Inspired by Adler's home – New York City – the collection brings "Big Apple" glamour and style to candle lovers everywhere.
There's plenty of glowing gold tone for holiday dazzle, from a tall, dramatic gold hurricane to a swanky, softer gold votive holder. There's a stunning contemporary wall sconce that is especially brilliant when used in pairs. There are sharp red accent pieces, and a cool white ceramic Big Apple candle holder, plus two sophisticated new fragrances (Big Apple by Day and Big Apple by Night) to finish with a wonderful scent. There are even some irresistible white porcelain creatures to add a touch of fantasy to the scene: sculptural peace doves and a charming squirrel. There's just so much to love and so many ways to "gift" your way into the holidays.
"The new Jonathan Adler for PartyLite Collection delivers the on-trend glamour our global audience will love," says Rob Goergen, President of PartyLite Worldwide. "These stunning candle holders, pottery pieces and brand new fragrances bring a sense of luxury and excitement to any home, anywhere in the world."
The Jonathan Adler for PartyLite Collection debuted online and in the PartyLite Fall/Holiday 2014 catalog on July 27.
"One of my favorite pieces is the ceramic squirrel tealight holder," says Joan Connor, President, PartyLite North America. "All of Jonathan's designs are unique and make a bold statement that will speak to the hearts of PartyLite fans everywhere. The collection is a clever way to infuse your space with style and scent – and it makes gift-giving this year really easy."
The Jonathan Adler for PartyLite Collection will be sold at PartyLite candle parties in Europe, North America and Australia. It can also be ordered online in the United States by visiting http://www.partylite.com.
About PartyLite
PartyLite is the world's #1 party plan company selling candles, candle holders, flameless fragrance and wax warmers as well as holiday and home décor in 21 countries through nearly 52,000 independent PartyLite business entrepreneurs. In 2014, PartyLite celebrates 41 years as the global leader in its category and 24 years as a member of the distinguished Blyth family of direct selling companies (NYSE:BTH). Blyth ranks #18 in the Direct Selling News "Global 100 top revenue-generating direct selling companies" for 2013. Based in Plymouth, Mass., PartyLite is a member of the Direct Selling Association and the Better Business Bureau. For more information, please visit http://www.partylite.com.