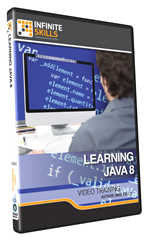 Learn Java 8 at your own speed
(PRWEB) July 25, 2014
Software training firm Infinite Skills Inc. this week released its "Learning Java 8 Tutorial," a beginning-level course designed for new programmers and those new to the Java language.
With over 3 billion devices currently running Java worldwide, the programming language is one of the most popular in use today. Java has continued to proliferate largely due to its basic "write once and run anywhere" principle, ensuring that any program written in Java can run on any device that supports the language. Java is particularly popular in the development of client-server web applications.
Infinite Skills' Learning Java 8 Tutorial helps new Java programmers develop a firm basis in the essential features and skills for Java programming, paying particular attention to its foundation as an object-oriented language.
Learning Java 8 Video Training - Streaming
Course author Mike Kelly started programming in his youth and has spent the last two decades providing technical training in applications, network engineering, and programming. He has worked with and trained developers in multiple industries, including nuclear power and medical research. He also runs a training blog for Grails, a Java-based web app framework, and publishes a Grails magazine available from iTunes.
Kelly begins here with an introduction to the basic concepts of Java, exploring the anatomy of a Java program, before guiding students through the installation of the Java Development Kit on Windows, OS X, and Linux systems.
From there, students follow along as Kelly starts from scratch with the development of a project application, a reservation system for a fictional airline company.
Building from the ground up, students first learn to create, compile, and run a Java class, before moving on to creating a scrapbook page, where they learn to work with data types and variables, and go in-depth with classes as they create a passenger class for the airline app.
As the elements of the app continue to develop, students learn essentials such as unit testing, passing data between objects, storing objects in ArrayLists, Java Syntax, and creating a console class for end-user input.
Concluding chapters cover app deployment, object inheritance, logging, and more.
"In this course, students will learn to use modern tools to give maximum productivity as we build a working app in Java," Kelly explains.
"Java has deep roots in the object-oriented paradigm, and this course will focus on Java's object-oriented nature, giving students a good handle on Java syntax and a solid understanding of object-oriented programming."
Free demo videos and a full list of course contents can be found on the Learning Java 8 training page on the company website:
http://www.infiniteskills.com/training/learning-java-8.html
Infinite Skills offers its Learning Java 8 Tutorial either as a DVD or a direct download from the company website at a retail price of $99.95, or as part of its subscription streaming service available at a rate of $25 per month. Though the compatibility of programs varies, all Infinite Skills titles and formats work on both Mac and Windows operating systems, and shipping is available around the globe. Additionally, Infinite Skills tutorials are supported by project files which correspond to examples in the videos.
About Infinite Skills Inc.
A leader in the field of software training, Infinite Skills designs its courses on a task-oriented model, teaching complex skills by providing hands-on examples and guiding users as they carry out essential functions. Infinite Skills offers a wide range of software titles available as DVDs, digital downloads, and in iPad editions. Infinite Skills now offers a subscription service, providing access to all its training content for a monthly fee, keeping with company's aim of delivering professional training to customers anywhere they want to learn.