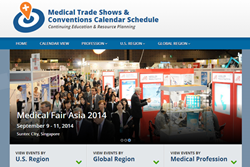 "With our medical trade show guide, users will be able to get all of the vital information about upcoming events from one source." - Justin Jeffries, DRE
Louisville, KY (PRWEB) July 30, 2014
DRE Medical — a leading medical equipment company — is pleased to announce the launch of its Medical Trade Shows & Conventions Calendar Schedule, a free, online resource for medical professionals and equipment vendors.
The calendar is a continually-updating guide to medical trade shows and conventions in the United States and around the world. Hundreds of entries are currently listed on the calendar, and that number is always growing.
Information listed on each trade show entry shows up-to-date information including the event name, sponsoring organization, dates, location, venue and contact information.
Users can browse events by region or medical profession, or view events from around the world in an all-inclusive calendar view. Event organizers also can utilize the calendar's interactive function to add or edit medical trade shows and conventions to ensure that interested health-care professionals receive the most complete and up-to-date information.
Justin Jeffries, Vice President of Marketing & Information Technologies for DRE, said the new trade show schedule will serve as a valuable planning resource.
"With our medical trade show guide, users will be able to get all of the vital information about upcoming events from one source," Jeffries said. "We are encouraging medical professionals, show organizers, convention staff, and medical associations to add valuable information as a free service to the community."
Visit DRE's new Medical Trade Show & Conventions Calendar Schedule and add your own entries today. For more information about more products and services from DRE Medical, visit dremed.com.
About DRE
Since 1984, DRE has worked to be a single supplier for all major operating room equipment and surgical equipment. Inc. magazine named DRE, Inc., a premier surgical and medical equipment supplier, to its annual Inc. 5000 list of the nation's fastest-growing private companies for three consecutive years.