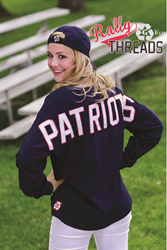 Dallas, Texas (PRWEB) July 28, 2014
Eco-friendly apparel and accessories manufacturer G Wear reveals is newest collection RallyTHREADS. RallyTHREADS by G Wear is eco-friendly, recycled apparel and accessories designed for schools, sports organizations and athletic teams.
"We have spent over six months creating something very unique, eco-conscious and on-trend with RallyTHREADS," stated Kevin Jones, G Wear President. "RallyTHREADS gives every customer the freedom to create personalized apparel and accessories that allow them to Live Green, Look Great and Show Their School Spirit."
RallyTHREADS is G Wear's most extensive launch to date. Including over 50 designs with virtually endless personalization options. RallyTHREADS warm-ups, t-shirts, pajama pants & shorts, hoodies, headbands, bags and caps can be personalized with by selecting your teams mascot and school letters and are available in all athletic colors.
About G Wear:
The G stands for Green and represents G Wears commitment to the recycling of materials in order to help you Live Green and Look Great. Every design element, appliqué and size tag on each of our products is truly handcrafted. Our designers and production team in the USA handle all G Wear design and production, from concept to finished product. The G Wear production team prints, cuts, glues and sews each appliqué for every one of our products. Because of this process, actual appliqué colors and prints on certain appliqués can vary. This is what gives our products a unique look and a very one-of-a-kind feel. All G Wear products are hand assembled in the USA even down to the hang tags which are printed on recycled paper and attached with recycled string.