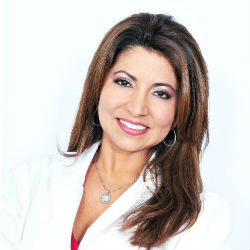 Miami dentist Dr. Gloria Ospina says the traditional treatment involves tissue grafting. But now she is using a new procedure known as Pinhole Gum Rejuvenation.
(PRWEB) August 05, 2014
The Chao Pinhole Surgical Technique is a new, minimally invasive option for treating gum recession. Dr. Gloria Ospina and her team at Gables Perfect Smile are one of only a few dental practices in South Florida that are offering this cutting edge technology that serves as an alternative to gum grafting.
Gum recession is a common symptom of periodontal disease. It manifests in loss of gum tissue along the gum line and can be the result of years of improper hygiene, crooked teeth, and the natural aging process. Most gum recession will also show as red, swollen or bleeding gums and often signal bone loss.
Traditional treatment requires surgery, incisions, soft tissue grafts and sutures, which leads to discomfort and a lengthy recovery period. Traditional methods of treating gum recession such as gum grafting surgery often frighten potential patients from taking appropriate action, leading to further gum recession and bone loss. Untreated, the root structure of the tooth will become exposed which allows for decay and other situations that can affect the teeth along the gum line and beneath it.
The new Pinhole Surgical Technique was developed by Dr. John Chao who is now training other dental professionals at the Chao Pinhole Academy in Alhambra, CA. Unlike traditional treatment of gum recession requiring incisions and soft tissue grafts, Dr. Chao's technique requires none of these. A small hole is made in the patient's existing gum tissue through which instruments are used to gently loosen, expand and slide the gum line to cover the root structure back to its proper position. Collagen strips are then inserted under the gums to keep the tissue in place and allow the body to heal. Patients typically see results within a week. Since there are no invasive surgical methods utilized, there is little to no postoperative down time.
Dr. Ospina and Gables Perfect Smile are proud to offer this new technology to local patients in the Miami, FL area. Patients who would like to learn more about The Chao Pinhole Surgical Technique are encouraged to call the office at (305) 443-8225 and schedule a consultation at their offices at 147 Alhambra Circle, #111, Coral Gables, FL 33134 or visit their website at http://www.cosmeticdentistrymiami.com.