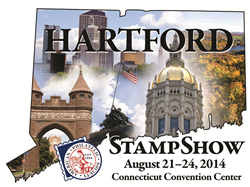 Bellefonte, PA (PRWEB) July 27, 2014
Mark your calendar! America's Stamp Club is packing its bags and taking STAMPSHOW to Hartford, Connecticut. The show will be held at the Connecticut Center 100 Columbus Boulevard. The doors open daily at 10 a.m. and admission is free. Thursday, Friday, and Saturday the show runs until 6 p.m.; Sunday until 4 p.m.
STAMPSHOW is America's largest annual postage stamp show covering more than 120,000 square feet — comfortable shoes are a must. There is something for everyone from the experienced to the non-collector — exhibits, dealers, specialty collecting groups, seminars, and much more. Visit http://www.stamps.org/Stampshow for additional show information — hotel and travel, schedule of events, list of participating dealers, and more. There is an App for that — be sure to download the StampShow App at http://www.stamps.org/SS-App.
What to do at STAMPSHOW —

View Rare Stamps on Display — The "Inverted Jenny" is the nation's most famous upside down airplane. Learn how the stamp took a wrong turn.
See a free-franked folded letter from President George Washington. U.S. Presidents are provided free franking (no charge) for their postal mailings. This privilege was first offered to George Washington when he became President in April 1789. In May 1789, he used this folded letter sheet for correspondence to the Honorable James Warren (1726–1808), a member of the Sons of Liberty who fought in the Battle of Bunker Hill and was Paymaster General of the Continental Army. Washington signed it "President/U.S." and it was mailed just weeks following his inauguration, making this artifact the earliest recorded documented use of this Presidential privilege.
Get Into Collecting in the Stamp Zone — The Zone is a kids-only fun area — games, puzzles, activities, stamps, and more stamps.
"Shop 'til You Drop" — More than 100 dealers will be selling stamps from around the world, hobby supplies, and other stamp-related materials — postcards, items of postal history, illustrated envelopes, etc. Prices will range from a dime to a dollar and up. Dealers also will be buying. (http://www.stamps.org/SS-Dealers)
Buy Stamps from the United States Postal Service — The USPS will have a stamp counter, merchandise area, and First Day cancels.
Bid Early and Often at the Live Auctions — Regency Superior and Harmer-Schau auction houses will bring the hammer down on several live auctions during the show.
Attend Three First Day Ceremonies — A First Day Ceremony is the official unveiling of a new stamp release. The United States Postal Service will issue a set of four stamps celebrating the Hudson River School. This set of four stamps is part of the American Treasures Series and honors artists from the Hudson River School. The United Nations will issue Cultivating Hope and the Marshall Islands will debut the Endangered Amphibians and Reptiles stamps (http://www.stamps.org/SS-First-Days).
Visit "What's In Your Attic!" — Don't know what to do with Uncle Charlie's stamp collection? The experienced collectors at this booth will offer advice — whether or not to donate the collection, contact a dealer or auction house to sell the collection, or to just keep it in the family as a memento or for a future collector.
Meet Stamp Designer, Chris Calle — Chris has designed stamps for the USPS and the Marshall Islands. He has created the illustrated souvenir cover for this year's show. Chris will be located at the APS Booth during the show.
Dive Into Stamps By the Bucket — A huge pile of stamps and a pail equals a bucketful of fun for both children and adults.
Learn About Collecting — New to the hobby? Don't know where to begin? A stop at the Beginner's Booth is a must. For a more in-depth learning opportunity, sign up for Stamp Collecting 101.
Stop at America's Stamp Club Booth — Staff members of the American Philatelic Society are ready to greet all attendees, share information about the Society, and answer questions.
Don't forget to download the StampShow app at http://www.stamps.org/SS-app. The app has everything you will need to navigate your way through the show.
Come join us at the Connecticut Convention Center, August 21–24 and explore the world of stamp collecting.