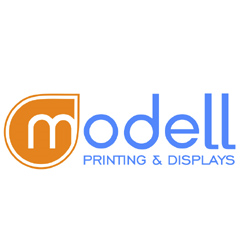 Window graphics are a part of a new push in advertising to take advantage of areas that have not traditionally been used effectively.
Toronto, ON (PRWEB) July 25, 2014
Modell's window graphics use 3M adhesive to cling to a store's window, displaying information while still allowing some light to filter through. They can be done in a glossy or matte finish, and they last for quite some time. Modell Printing can create a wide variety of these window graphics in a variety of colors.
Window graphics are a fairly new trend in advertising. Previously, the windows of a storefront were unused space or, at best, were decorated using glass paint or glass markers. Often, these decorations were done by the employees without any type of stencil, and the end result was often less than satisfying. Both glass paint and glass markers also tended to fade or chip fairly quickly, leaving the drawing or message looking worn. Window graphics have neither of these problems. Because they're printed, they look extremely professional and well done. The laminated material is designed to last for years without losing its brilliance or adhesiveness even when under direct sunlight for hours at a time every day.
Window graphics are a part of a new push in advertising to take advantage of areas that have not traditionally been used effectively. Even though internet marketing has made some forms of advertising less effective than they once were, outdoor advertising continues to remain very popular and effective. In fact, a study done by Bizreport.com shows that 77% of the customers they surveyed (almost 5,000) activity went online to learn about a product after seeing an outdoor advertisement for it.
Window graphics harness a number of the advantages that outdoor advertising has. Even though they are becoming more and more popular, not all businesses use window graphics, making those that do stand out. Some businesses also use only small graphics instead of those that cover the entire window. Window graphics, unlike the internet, television, and even print ads, can't be turned off or put away. As long as a customer is in the area, he or she can see the ad.
Another benefit of window graphics is their staying power. While print ads may get tossed with the rest of the magazine and internet ads rotated out, window graphics can stay in place for months if desired. This helps reinforce the message they're spreading. A customer who sees an ad online once may not remember anything but it, but a customer who sees a window graphic every day will assimilate more of the information.
Modell Printing offers a wide variety of window graphics for a reasonable price. Customers interested in learning more about this form of outdoor advertising can request more information or a free quote from Modell.
About Modell:
Modell Printing & Displays has been providing clients with prints, banner stands, displays, wall murals, vehicle wraps, and more since its establishment in 2006. The company focuses on providing high quality prints and portable displays that meet clients' expectations, timetables, and budgets. More information can be found at http://www.modell.ca or by calling (647) 558-0554.