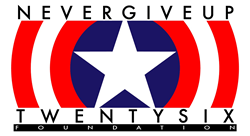 Never give up. And most importantly, be true to yourself. Write from your heart, in your own voice, and about what you believe in.-Louise Brown
(PRWEB) July 30, 2014
NEVERGIVEUP26 Foundation, Inc., is a Virginia non-profit corporation, dedicated to serving the communities across Northern Virginia. This corporation was formed in honor of Patrick Ryan Purcell (Packy), a hero among many men and women in the Northern Virginia area.
Packy was an amazing man, as many knew Packy battled Crohn's disease for 7 years and in 2011 was diagnosed with colon cancer. Packy was fighting an uphill battle from the start and lived everyday by his moto NEVER GIVE UP! Never once did Packy complain or ask why me, he just continued to live his life! Packy graduated from Oakton High School in 2005 where he also played football and was then afforded the opportunity to Coach and teach at his alma mater. As a coach and teacher Packy affected so many young men and women's lives.
This foundation was created to educate and help the lives of people just like him and their families and friends. The purpose for which the Corporation is formed is to assist in the support and development of the athletic programs at Oakton High School, a Virginia public high school, including supporting Oakton High School athletes academically in their pursuit of a post-high school education. Also, NEVERGIVEUP26 Foundation will assist in the support of the athletes and athletic programs at Shenandoah University, in Winchester, Virginia, a Division III school that awards no athletic scholarships, including providing academic and financial support to deserving recipients as allowed by NCAA regulations.