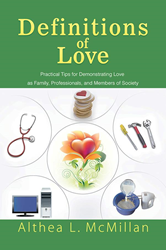 Poverty is not a disgrace, only a setback.
(PRWEB) July 28, 2014
"Definitions of Love: Practical Tips for Demonstrating Love as Family, Professionals, and Members of Society" is a collection of poems based on I Corinthians 13. Just as true love never dies or gives up, these poems will stay with readers. This book is an inspiring read!
Inspired by the teachings of I Corinthians 13, the poetry in Definitions of Love tells how important it is for everyone to demonstrate love.
"But for right now, until that completeness, we have three things to do to lead us toward that consummation: Trust steadily in God, hope unswervingly, love extravagantly. And the best of the three is love." – I Corinthians 13
About the Author:
Althea L. McMillan grew up on Cat Island in the Bahamas. Now retired, the author grew up in a very large family in a very small village, but was fortunate enough to have a mother who believed in education. She stressed that poverty is not a disgrace, only a setback. Her book was inspired by "a nursing class that I taught many years ago, and a student who returned to campus and demonstrated much love to me to show his gratitude." This is her first published book. Her next is Life Lessons from the Book of Esther.
Book Details
Genre: Poetry / Inspirational
Author: Althea L. McMillan
Format: Paperback, 174 pages
Pub date: July 2014
"DEFINITIONS OF LOVE: PRACTICAL TIPS FOR DEMONSTRATING LOVE AS FAMILY, PROFESSIONALS, AND MEMBERS OF SOCIETY" (Kindle ISBN: 978-1-63135-248-5, ePub ISBN: 978-1-63135-249-2) is available for $9.95 at
http://epubco.com/shop/products/definitions-of-love-practical-tips-for-demonstrating-love-as-family-professionals-and-members-of-society-by-althea-l-mcmillan/ or Amazon Kindle: http://www.amazon.com/Definitions-Love-Practical-Demonstrating-Professionals-ebook/dp/B00KGD8SQE/,
Barnes & Noble Nook: http://www.barnesandnoble.com/w/definitions-of-love-althea-l-mcmillan/1119342713
and in multi-formats for other e-Readers through numerous vendors online.
The soft cover/hard cover version (ISBN: 978-1-62857-508-8, $26.50) can also be ordered through the publisher's website: http://sbprabooks.com/AltheaLMcMillan, Amazon, or Barnes and Noble.
WHOLESALERS: This book is distributed by Ingram Books and other wholesale distributors. Contact your representative with the ISBN for purchase. Wholesale purchase for retailers, universities, libraries, and other organizations is also available through the publisher; please email bookorder(at)aeg-online-store(dot)com.
Further Information:
Ellen Green, Press Manager, Strategic Book Publishing and Rights Agency, 703-899-8128,
pressmanager(at)sbpra(dot)net
Strategic Book Publishing and Rights Co, LLC