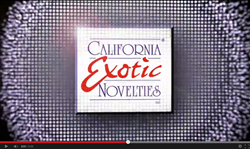 Videos are an important part of every business' marketing strategy. They are incredible sales tools that are proven to produce results.
Los Angeles, CA (PRWEB) July 29, 2014
California Exotic Novelties, the global leader of innovation in pleasure products, offers 84 exciting new Product Videos. The videos are shorter, more contemporary and utilize entertaining animated graphics. They also feature upbeat music and a new voice over which enhances the overall sound quality.
The Product Videos are primarily intended for retail websites. They illustrate important product features, show size and scale, and are entertainingly informative. The videos can also be shared through social media, in email marketing campaigns, and used to train employees.
Susan Colvin, President and CEO of California Exotic Novelties, says, "Videos are an important part of every business' marketing strategy. We hope everyone loves them! They are incredible sales tools that are proven to produce results."
All California Exotic Novelties Product Videos are available on the company's website. Find them on the individual product pages. They are also available on http://www.CalExotics.TV where they can be streamed or downloaded. The streaming option also helps save customer's bandwidth as it is hosted by CalExotics.
Another option is an Excel spread sheet that lists all the embed codes. Find it on the Product Information Page on the company website, under "Product Videos."
In addition to product videos, the company also produces consumer-focused webisodes that help educate the consumer. Bedroom Insider is a relaxed, in-depth look at sex topics and methods to help people find fulfillment with sex toys. Kinky Korner is a fun, light look at everything that has to do with fetish and light BDSM play. Gotta Have It is a fun and fast-paced series that lets viewer know in just a few seconds, which toys they "gotta have."
All the webisodes are available from http://www.ClubCalExotics.com and retailers are encouraged to use them for B2C marketing or even to help educate new employees.
California Exotic Novelties has over two-thousand videos and will soon update them to fit their new look. The company will continue to enhance the Product Videos, improving them with each release. Feedback is welcome and those with ideas are encouraged to contact Desiree Duffie to discuss.
About California Exotic Novelties
California Exotic Novelties is the nation's leading manufacturer of adult toys and novelties. Since 1994, the company has been at the forefront of research and development of products to enhance the sexual experiences of women, men and couples. From its 200,000 square foot operations center in Chino, California, CalExotics maintains a network of manufacturing and distribution facilities worldwide. Its products are available online and from retailers throughout the world.