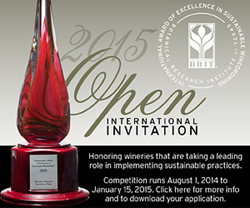 Fort Worth, TX (PRWEB) July 29, 2014
Come join the competition! The Botanical Research Institute of Texas has announced that its 2015 sustainable winegrowing application has been posted on its website and is ready for download by wineries wishing to compete in BRIT's 2015 sustainable winegrowing competition.
As the only international sustainable winegrowing award of its kind, the competition attracts progressive and passionate wine organizations from around the world that are taking a lead role in "ground to glass" sustainable programs. The competition is based on the continual improvement of the three tenants of sustainability - environment, economic, and social - and wine taste.
The competition begins August 1, 2014 and has a submission deadline of January 15, 2015. The winners will be selected in February 2015. New for this year, the platinum winner will be presented with BRIT's International Award of Excellence in Sustainable Winegrowing in Fort Worth on Saturday, March 28, 2015, during the Fort Worth Food and Wine Festival. The award will be presented live outdoors on the festival stage in Fort Worth's Sundance Square where festival attendees, over 21 years of age, will be led in a group toast to the winner.
The award application is comprised of 18 high-level self-assessment questions focusing on the three tenants of sustainability: environmental, social, and economic aspects, plus a nineteenth subjective assessment – wine taste. The competition values a balance between all the judging criteria.
Among the 18 criteria judged are seed selection, agricultural and winemaking protocols for saving water, soil conservation, saving energy, packaging protocols for waste reduction, programs for reducing carbon (CO2 e) emissions, social responsibility programs, and plans for continual improvement.
Applicants must describe their organization's conservation efforts in the vineyard and in operations: how waste is avoided, how it is reclaimed, and how the winery extends conservation efforts to its customers. They must also detail the practices they have established to maintain environmentally sound, socially responsible, and economically feasible winemaking principles. A bottle of wine must also be provided for a tasting by the judging committee.
International entrants may use their US distributors to forward their wine samples to BRIT or may use BRIT's consignee, Accolade Brands to clear shipments. If wishing to use Accolade, please contact Mark Newman, Accolade Brands, at (818) 390-3888 or email mark(at)accoladebrands(dot(com before shipping.
Previous award recipients include LangeTwins Family Winery and Vineyards (2014), Yalumba (2013), Trefethen Family Vineyards (2012), Parducci Wine Cellars (2011), and HALL Wines (2010).
The 2015 Sustainable Winegrowing application may be downloaded at the BRIT web site: 2015 International Sustainable Winegrowing Application.
About the Botanical Research Institute of Texas
Founded in 1987, the Botanical Research Institute of Texas (BRIT) based in Fort Worth, Texas is an international scientific research and learning center focused on conservation, knowledge sharing, and studying the diversity of plant life. BRIT conducts extensive global research, including major projects in Texas, Europe, Peru, and the Pacific Islands. In the last 10 years, BRIT scientists have located and described scores of species previously unknown to science. BRIT's herbarium is among the largest in the United States and is the largest U.S. herbarium not part of a university, botanical garden, or broader natural history museum. In the spring of 2011, BRIT moved into its new US Green Building Council LEED (Leadership in Energy and Environmental Design) Platinum-certified headquarters located in the Fort Worth Cultural District. For more information, visit http://www.brit.org.