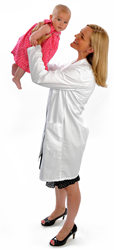 "I am honored that this award recognizes my efforts to help women, men and couples across Rhode Island with their family building dreams," said Dr. Luzzo
Providence, Rhode Island (PRWEB) July 25, 2014
Reproductive Science Center (RSC) of New England is very pleased to announce that Dr. Kerri Luzzo, Lead Physician at RSC Rhode Island, received the distinguished "40 Under Forty Award" for her professional accomplishments in fertility care and community outreach issued by Providence Business News (PBM).
At the 10th Annual PBN Awards ceremony held July 24th at Salve Regina University in Newport, Rhode Island, 40 of the most highly regarded, emerging leaders in their field were recognized by the greater Rhode Island business community for their initiatives to make a positive contribution, both professionally and through community outreach activities.
Dr. Luzzo is a board-certified reproductive endocrinologist and fertility expert, as well as a clinical instructor in the Department of Family Medicine at Brown University Alpert Medical School in Providence, RI. Dr. Luzzo specializes in helping people who are having trouble getting pregnant or who want to preserve fertility for future family building dreams.
"I am honored to receive this award and pleased that it recognizes the importance of my efforts to educate and assist women, men and couples throughout Rhode Island on how to take control of their reproductive health and make the best decisions they can to expand their families," commented Dr. Luzzo.
Recognizing the importance of a holistic approach to reproductive health care for women, Dr. Luzzo now sees patients in Middletown, RI at Lotus Blossom Fertility. Also, collaborating with the Rhode Island Endometriosis Foundation, Dr. Luzzo has helped to raise awareness of the impact of endometriosis on fertility. Other areas of particular interest to Dr. Luzzo include recurrent pregnancy loss, in vitro fertilization (IVF), polycystic ovary syndrome (PCOS), and the effects of obesity on reproductive outcomes.
With an office in Providence and satellite practice in Middletown, Rhode Island, Dr. Luzzo is dedicated to providing compassionate, advanced infertility care to women, men and couples.
Read more at http://ow.ly/zAiLD
About Reproductive Science Center of New England
Since 1988, Reproductive Science Center of New England is one of the largest and most experienced fertility treatment centers in the United States, providing comprehensive infertility diagnosis, advanced infertility treatment options, fertility preservation, and exceptional patient care. RSC New England has 11 locations in Massachusetts, New Hampshire and Rhode Island and is a partner member of IntegraMed Fertility, the most expansive network of infertility treatment centers and fertility specialist physicians in the nation.