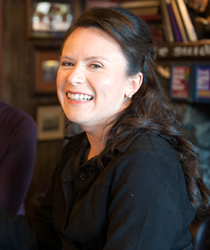 Being part of LPA, a firm where integrated sustainable design is the model used to create better and more innovative spaces, brings such possibilities.
San Jose, CA (PRWEB) August 29, 2014
Integrated sustainable design firm, LPA Inc., welcomes a new associate to their San Jose, Calif. office. Katia McClain joins LPA as an Associate and she "looks forward to being part of a firm so committed to the environment and to delivering 21st century learning environments."
Throughout the past two decades, McClain has been involved in the design, management and construction of complex architectural programs for both public and private educational and commercial clients. In addition to her experience studying and working in the cultural capitals of Latin America and Europe, in the United States McClain has developed an expertise in leading large educational projects. She encourages an atmosphere of intellectual curiosity and collaboration in order to create spaces that have a positive effect on human outcomes.
"In a creative career as an architect you need to be challenged and engaged," says McClain. "Being part of LPA, a firm where integrated sustainable design is the model used to create better and more innovative spaces, brings such possibilities.'
Prior to joining LPA, McClain led business development and project management efforts for the San Jose office of a large architectural firm. She received her undergraduate degree from La Salle University and her master's degree in Urban and Regional Planning from San Jose State University. McClain lives in San Jose with her husband Steve, a product marketing manager. Outside of work, she is active in community charitable organizations, creates art, loves Formula One racing, and enjoys worldwide travel, especially backpacking with her husband.
Katia McClain
AIA, LEED AP BD+C, DBIA
Associate, Senior Project Director at LPA Inc.
Kmcclain[at]lpainc[dot]com
LPA Inc.
60 South Market Street, Suite 150
San Jose, CA 95113
About LPA Inc.
Founded in 1965, LPA has more than 220 employees with offices in San Jose, San Diego, Irvine, and Roseville, Calif. and San Antonio, Texas. The firm provides services in architecture, sustainability, planning, interior design, landscape architecture, engineering, and graphics. There is no "Sustainability Director," at LPA. Instead, more than 80% of the professionals are LEED accredited, including the Human Resources Director, CFO, and several other support staff. With extensive experience in public and private architecture, LPA designs a diversity of facilities that span from K-12 schools, colleges and universities, to corporate and civic establishments. More than 600 major design awards attest to LPA's commitment to design excellence.
Bay Area projects in the works:

Santa Clara Gateway – This elite corporate campus in Santa Clara, Calif. includes four five-story and two six-story buildings across 40 acres of land. In total, the buildings feature 900,000 square feet of class A office buildings to accommodate Silicon Valley tenant needs. LPA was the architect on this project along with Pei Cobb Freed of New York as design architects. LPA continues to provide services for exterior and site enhancements of this campus. The project was designed to achieve LEED Silver certification.
Santa Clara Square – This high tech campus houses more than 1.2 million square feet of class A office space with high visibility from 101 freeway in the heart of Silicon Valley, in the city of Santa Clara. The campus is consisted of a mix of five-, six- and eight-story office buildings featuring efficient floor plates and generous outdoor people and work spaces to encourage a high productivity work place. Pei Cobb Freed of New York as the architect and LPA as associate architect are responsible for design and production of this exceptional project. This campus is designed to achieve LEED Silver certification.
McCarthy Center – Located in the heart of Silicon Valley in Milpitas, Calif., LPA planned and designed McCarthy Center along Interstate 880. The corporate campus features nineteen two-story office buildings totaling over one million square feet in a 68-acre campus-style setting. Currently, LPA is performing tenant improvements with integrated services in architecture, interior design and landscape architecture for a variety of Silicon Valley clients.
60 South Market Building Re-imaging – LPA was asked by Harvest Properties to re-imagine the tenant experience in this 1980s vintage 15-story, high rise office building in Downtown San Jose. To bring in a new look, the owners wanted to renovate the entries to the main building lobby from the busy Market Street and the adjacent parking structure. LPA's design includes the reuse of wood-paneled walls in key areas and the addition of new ceilings and lighting, back painted glass wall panels, rear illuminated LED wall panels and new terrazzo flooring.
California State University, East Bay Warren Hall Replacement - The new five-story, 67,000-square-foot building will house administrative and faculty offices, support space and the campus Welcome Center. The original 13-story Warren Hall was demolished after it was determined that it was seismically vulnerable, and its replacement looks to the campus context and the original Warren Hall for inspiration. The new building is designed with sustainable materials and practices in mind, including high-efficiency, low-e glazing, a cool roof, a variable air volume (VAV) reheat system for HVAC, high efficiency condensing boilers, water-efficient landscaping and plumbing fixtures, day lighting, high recycled content and locally sourced materials. The project is targeting LEED Gold certification with the U.S. Green Building Council.
Fremont Unified School District Long Range Facilities Plan - In cooperation with District and local community stakeholders, LPA is in the process of developing a long range facilities master plan. This planning process will determine the educational vision and existing school site master plan proposals by building upon the completed Facilities Needs Assessment document and good work that the District has done to date to visualize the future of their transformed facilities infrastructure.
West Valley College District Facilities Building - The 25,000-square-foot facilities project for West Valley College District will provide offices, custodial, maintenance and grounds shops, warehouse and restrooms for the District General Services and Facilities Construction and Maintenance Departments. The new building will utilize modern construction materials to achieve greater energy efficiency compared to the current building. This project will be designed and built to exceed California Title 24 Energy standards and be equivalent to a LEED Silver certified building.
For more information, visit LPAinc.com.
###