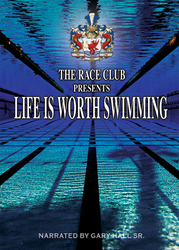 We want everyone to be able to know what secret tips we teach at The Race Club.
Florida Keys, FL (PRWEB) July 29, 2014
The Race Club is the world's leading technical swim camp for athletes of all levels to learn to swim faster. The Race Club has produced 3 DVDs, the most recent one being Life is Worth Swimming. The DVD is now available for online download to watch instantly.
Three time Olympic swimming medalist, Gary Hall Sr. takes us on a journey through these five swimming disciplines while coaching 4 time Olympian swimmer George Bovell III and NCAA swimming Champ Bobby Savulich at The Race Club swim training grounds in the Florida Keys. Discover the culmination of The Race Club's years of Olympic level swimming experience and fast swimming training knowledge from training 33 Olympian swimmers that earned 24 Olympic medals. At The Race Club we believe there are five disciplines of fast swimming training that are necessary to achieve the highest level of performance to swim faster. Find out why Life Is truly Worth Swimming.
Not only is it more convenient to download Life is Worth Swimming DVD, it is also much more affordable. The regular DVD is $39.95 and to download to own is $16.99. To rent for 24 hours, the price is $7.99. "We want everyone to be able to know what secret tips we teach at The Race Club," says Gary Hall Sr., technical director.
The link to download the DVD: https://vimeo.com/ondemand/17700
For more information about the swimming videos or The Race Club, please contact Amy Hall or visit http://www.theraceclub.com
About The Race Club:
Established in 2003, The Race Club is directed and coached by Dr. Hall, a three-time Olympic medalist (1968, 1972, and 1976). Dr. Hall draws on his many years of being an ophthalmologist for his bio-mechanical approach to understanding and coaching the fundamentals of fast swimming techniques. The Race Club offers five swim camps year round for swimmers to come and practice with the best to improve their technique. For more information please visit theraceclub.net or call 877-SWIM-RACE.