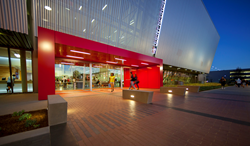 This project is beloved by everyone, whether you're a novice in understanding architecture and design or you're a seasoned veteran of designing super-modern buildings.
Irvine, CA (PRWEB) July 31, 2014
Two beloved, and very different, LPA projects have recently been recognized by the Society for College and University Planning (SCUP). The Student Recreation Center at California State University, Northridge (CSUN) received a Merit Award from SCUP/AIA-CAE for Excellence in Architecture - New Building, while the Merit Award for Excellence in Architecture - Building Additions or Adaptive Reuse was given to the Center for Social Justice and Civil Liberties at Riverside Community College District (RCCD).
The Student Recreation Center at CSUN was completed in December 2011, and has improved the way of life for students on campus. The 130,000-square-foot recreation center has been a major, positive change for students and faculty. Steven Flanagan, Principal at LPA and Managing Principal on the award-winning project, says the campus was reinvigorated by the addition of the rec center. "Students say that they can't believe they have this now. It's a powerful display of what architecture can do," he says.
Glenn Carels, Principal at LPA and Design Principal on the project, agrees that the center has had a grand impact, both on lifestyles and visually. "It was transformative in regard to campus life. It really changed things for students. It gave them another reason to stay on campus. It's not just enhancing quality of life for students on campus today; it's also an amazing recruiting tool," he says.
"The big gesture of the building is the east façade, a sustainable solution that overlooks the playfields and views out toward the east gateway of the university," he says, adding that, at night, "it becomes what we call a human billboard of student life. A recreation center is truly a place to see and be seen. They're not just there to sweat. They're there to socialize and find a better balance."
The glass façade, while contributing to the facility's LEED Gold rating from the U.S. Green Building Council, also offers students an appreciable connection to nature. "Every time we go to a university," says Flanagan, "we go to their student recreation centers. Most of them are very utilitarian, inwardly focused with no natural daylight and no views."
In the CSUN recreation center, Flanagan sees a trend emerging. "A lot of the newer student recreation centers are taking advantage of a connection with nature where you can passively participate in nature, even as an active participant inside a building." On the ground level of the center, you have connections with both the academic campus as well as the recreational fields; on the upper levels, you can actually view the far-off, snow-capped mountains.
While the sustainable features and integrated design approach are noteworthy, the LPA team feels the project is award winning because of how students had a hand in shaping their own experience. Carels mentions that the student body raised the money for the facility and also participated in the design. "As a result, the design took kind of a different process to come to architecture. It was never really about surfaces and materials. It was always about the experience from a student's perspective," he says.
The RCCD Center for Civil Liberties and Social Justice in Riverside, Calif., was once an unused space waiting for its purpose. For half a century, the two-story, Spanish Colonial Revival building was hidden under a façade of brick and steel. As LPA stripped away the cladding, the beauty of the original building emerged, as did an idea for its use.
"It wasn't until we realized that the original building might still be intact under all the layers that [RCCD] started looking at a bigger, more meaningful picture of what it could become," says Flanagan. When the college was bequeathed the work of artist Miné Okubo, who had attended Riverside City College, the idea was born to display her artworks as well as create a museum for people from Riverside who had been involved in civil liberties or had overcome social injustices. The restoration of the building and the new, meaningful use of the space seemed "like a natural fit," according to Flanagan.
While the restoration and sustainable renovation of the building posed a few challenges to the LPA team, the final product is well loved and has won numerous awards. "It doesn't matter who you are," says Flanagan, "this project is beloved by everyone, whether you're a novice in understanding architecture and design or you're a seasoned veteran of designing super-modern buildings."
Carels adds, "It's like a human interest story that's expressed through architecture and materials. It's like fireworks on the 4th of July – it's a crowd pleaser. There's something people inherently connect to. Ultimately, what separates architecture from buildings is an emotional connection to the place."
The process of stripping away all the "improvements" made over the years shows the long-lasting attractiveness of simple, sustainable design choices. "Things were always added to this structure," says Carels, "but our process was just the opposite. It proves that in restoration, doing less is always fashionable."
For more information about California State University, Northridge, please visit csun.edu. For more information about Riverside Community College District, please visit rccd.edu.
For interview opportunities with LPA Design Principals Steve Flanagan and Glenn Carels, please use media contact: Courtney Tarnow at (949) 701-4146 or ctarnow[at]lpainc[dot]com.
About SCUP
The Society for College and University Planning (SCUP), which was established in 1965, is a community of senior, higher education leaders who are responsible for, or are involved in, the integration of planning on their campuses and for the professionals who support them. Members look to SCUP to find ways to successfully integrate the institution's mission into their academic plan, and then seek to integrate all other kinds of planning on campus in support of the academic plan
About LPA Inc.
Founded in 1965, LPA has more than 200 employees with offices in Irvine, Roseville, San Diego and San Jose, Calif. and San Antonio, Texas. The firm provides services in architecture, sustainability, planning, interior design, landscape architecture, engineering, and graphics. There is no "Sustainability Director," at LPA. Instead, more than 80% of the professionals are LEED accredited, including the Human Resources Director, CFO, and several other support staff. With extensive experience in public and private architecture, LPA designs a diversity of facilities that span from K-12 schools, colleges and universities, to corporate and civic establishments. More than 600 major design awards attest to LPA's commitment to design excellence. For more information, visit LPAinc.com.
###