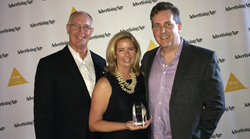 It takes great clients to do great work. And it takes great people to build a great agency.
Austin, Texas (PRWEB) July 25, 2014
Clients willing to disrupt the status quo and a dynamic team earned nFusion Advertising Age's Small Agency of the Year (Silver, Southwest Region) last night at the Small Agency Awards in nFusion's hometown: Austin.
"It takes great clients to do great work. And it takes great people to build a great agency," said John Ellett, nFusion CEO. "It's been a privilege to work with such a talented and collaborative team at nFusion."
Big Brands, Small Agency
Being small has worked to nFusion's advantage in attracting big – and bold – brands like Samsung, SanDisk and AMD. nFusion, a long-time digital agency to Samsung, has been instrumental in designing digital experiences of some of the consumer electronic brand's biggest product launches, including those featuring the Smart TV, Galaxy tablet and most recently the Chef Collection of home appliances.
nFusion was also recognized for its work on SanDisk's "Telling Life's Stories From Memory" program, which leveraged user-generated content across social, mobile and Web to engage users, and for collaborating with la Madeleine on a mobile-first web site.
Boldness Required and Freely Shared
The trait Ad Age said made nFusion rise to the top of the stack: their ability to vet clients, and potential hires, based on one characteristic: Is this marketer bold enough to lead real change for the brand?
The Cojones Awards, produced by nFusion, caught the eyes of Ad Age staff as a creative way of showcasing courageous marketers and included a tweet-to-vote microsite, an ebook, and an awards ceremony during SXSW.
Among Good Company
The Ad Age Small Agency Awards recognize top shops across the country that employ less than 150 people, with winners determined by Ad Age editorial staff.
"We were pretty blown away by the incredible talent and powerful ideas coming out of the small agency community," said Abbey Klaassen, Ad Age's Associate Publisher - Editorial and Audience.
In an article featuring the winning agencies, Ad Age Managing Editor Ken Wheaton said: "I'm no longer surprised to see the number of huge clients popping up on the rosters of so many of these shops, whether it be project work or agency-of-record duties. And I'm not surprised at all by the quality of the marketing campaigns that small agencies are producing. I don't think their clients are, either. B-to-B, B-to-C, digital, pro bono, you name it, these guys have proved they deliver in a big way for brands."
nFusion will celebrate with breakfast tacos, naturally.