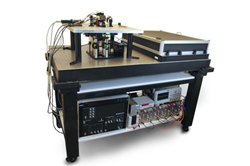 "ColdQuanta's distribution partnership with Soliton is really a meeting of like minds, " said Rainer Kunz, CEO of ColdQuanta
Boulder, Colorado (PRWEB) August 11, 2014
ColdQuanta, the leading commercial provider of devices and systems to create cold matter, ultracold matter and Bose Einstein Condensate systems for researchers and educators, today announced a new partnership with Soliton Laser-und Messtechnik GmbH, as an authorized distributor in German speaking countries of Europe. Securing Soliton as a German distributor will allow ColdQuanta to have greater access to a market which regularly produces leading research work within the Atomic Molecular and Optics (AMO) and Condensed Matter fields. Soliton is already an authorized distributor of a variety of products ranging from laser sources, sensors, cameras, spectroscopy equipment and measurement equipment.
"ColdQuanta's partnership with Soliton is really a meeting of like minds. In the German speaking areas of Europe, Soliton is well regarded for their technical expertise, both in terms of sales, customer service and strong relationships with their partners," stated Rainer Kunz, CEO of ColdQuanta. "At ColdQuanta we strive for similar excellence and we are excited that Soliton's scientists and engineers will be representing our products in our target markets".
ColdQuanta will be able to leverage Soliton's considerable customer base throughout Germany, Austria, and Switzerland. Soliton will be the authorized distributor for ColdQuanta's entire product range. The company has been in business since 1990. Dr. Wolf Wagner, President of Soliton said, "Our partnership with ColdQuanta to market, sell and service their advanced BEC systems as well as their cold atom systems fits very well with the strategy of our company and will strengthen our presence in the scientific market ."
ColdQuanta designs and manufactures its products in Boulder, Colorado and employs more than 20 people. Soliton is based in Gilching, Bavaria and employs 15 people.
About ColdQuanta, Inc.
ColdQuanta is a leading supplier of devices and systems designed to simplify the production of BEC, ultracold and related forms of matter. ColdQuanta's products intended for use in scientific, educational and industrial applications drive the development of high precision instrumentation. For more information, please go to http://www.coldquanta.com.