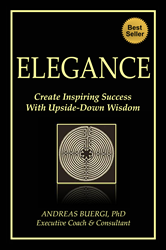 Elegance rises above the ordinary with surprisingly satisfying results!
(PRWEB) July 31, 2014
Reap real, rapid, and relevant results in both business and private life by applying the recommended steps that lead to truly satisfying success.
"Elegance" rises above the ordinary, creating surprisingly satisfying, significant results with an amazing sense of lightness and ease. In the fields of information technology, mathematics, and engineering, elegant solutions provide a simple method not normally obvious at first sight, producing highly effective results, often solving multiple problems at once – even those that may not be interrelated.
"Elegance" invites us to stress less and focus more on getting the maximum impact for every action we take. This book enables us to break through the glass ceiling that has prevented us from accessing the powerful potential spiritual intelligence provides us with, enabling us to succeed more easily, with lightness and joy.
Watch the video at: https://www.youtube.com/watch?v=Dr9NVtBmnCo.
"ELEGANCE": CREATE INSPIRING SUCCESS WITH UPSIDE-DOWN WISDOM (ISBN: 978-1-49950-877-2) is now available for $14.95 and can be ordered through the publisher's CreateSpace website http://www.elegant-success.com, Amazon, or Barnes and Noble.
About the Author:
Andreas Buergi's newest book on how to create inspiring success with upside-down wisdom reached the No. 1 position in multiple categories on Amazon in the U.S., Canada, and Germany in May 2014, becoming an international bestseller. The book also made it into top positions on Amazon in the UK and Australia. The author is the managing partner of the Living Water Institute Ltd. based in Switzerland. He is a seasoned executive coach and corporate management consultant, with more than 26 years of hands-on leadership experience in business and servicing clients around the world. He worked in the financial services industry in Europe for 10 years, from where he became a partner with PricewaterhouseCoopers before starting his own business. He holds an MBA from City University of Seattle and a Ph.D. from the American Institute of Holistic Theology.
Author's websites: http://www.lwi.ch .
Strategic Book Publishing and Rights Co, LLC