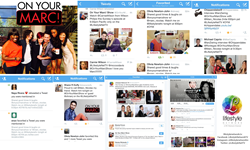 Marc is a dynamo of a personality! He brings an infectious light and humor to his interviews without even trying.
Redwood City, CA (PRWEB) July 25, 2014
The first Filipino American Hollywood celebrity talk show, On Your Marc!, wraps up its first season on the air. Three-time Emmy nominated producer-turned-host Marc Anthony Nicolas successfully bunted the year-old Lifestyle Network onto Hollywood's map with a little help from friends like Sharon Osbourne, Vanessa Lachey, Ian Ziering, and Olivia Newton-John. Due to popular demand, the show will begin broadcasting replays on July 27th, airing Sundays at 930p PT.
The formula to the much talked-about show was simple: the right team, celebrities galore, and the magic touch of Filipino American director RD Alba, producer Philip Anthony, and Producer/Host Marc Anthony Nicolas. Creating a high energy and unforgettable experience for guests was crucial. Actress and comedienne Margaret Cho says of her appearance on the show, "I had a great time with Marc. He was truly 'On his Marc!' He is hilarious and outrageous and we ate a lot of weird food."
"Being the host of the first Filipino American talk show with Hollywood celebrities is a dream come true. With hard work and perseverance, I truly believe anything can happen," said Nicolas. "Finally, I have become a voice of the community and it excites me to know that I am able to help people leave their worries and problems behind when watching my show. It's my mission to make people laugh and entertain our viewers at home."
Hollywood celebrities, mainstays, and TV shows amass took notice. With the flurry of attention On Your Marc! received on social media, it made massive waves when it became the first Filipino American show to be featured on The Talk on CBS, one of the country's top and most watched daytime talk shows. Its success is no doubt credited to its host whose personality and network have been met industry love.
"Marc is a dynamo of a personality! He brings an infectious light and humor to his interviews without even trying," said TV personality and recording artist Carnie Wilson. "He's a great friend and someone who makes me laugh hard."
Barely a few days off the final episode of its first season, the clamor from viewers for a second have been resonating. "On your Marc! is a hoot, no holds barred party. [We] Can't wait for more fun episodes and unexpected TV surprises," commented Earl Langit, Lifestyle Network viewer from Redondo Beach, California.
Stay tuned for more updates on On Your Marc! To get the full Lifestyle Network experience, stay connected online at Facebook.com/LifestyleNetworkTV, @LifestyleNetTV, and on YouTube.com/LifestyleNetworkTV.
##
About Lifestyle Network:
Lifestyle Network is a living and travel TV guide that fulfills the lifestyle needs of modern Filipinos around the globe. A TFC premium channel, Lifestyle Network's programming is a unique combination of original and acquired shows airing 24/7 in English. Broadcast across the country, it is available through satellite, cable, and video on demand platforms. Based in Redwood City, California, the channel is owned by ABS-CBN International, a subsidiary of ABS-CBN Corporation - the Philippines' largest entertainment and broadcasting company, through ABS-CBN Corporation's wholly-owned subsidiary, ABS-CBN Global Hungary Kft. To find Lifestyle Network in your area and for exclusive content online, visit http://www.lifestylenetwork.tv.