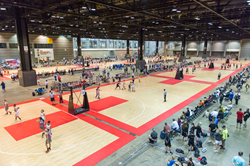 We are excited about the ability to supply these events with portable Sport Court basketball courts. - Dan Wollman, Director of Commercial Sales
Salt Lake City, UT (PRWEB) July 25, 2014
Sport Court® provided and installed all basketball court surfaces for the recent Nike National Invitational Tournament (NIT) in Chicago at McCormick Place and the current United States Junior National Tournament (USJN) in Washington D.C. at the Walter E. Washington Convention Center through July 25.
The flooring for these prestigious national tournaments included 44 Sport Court Maple Select® courts totaling more than 300,000 square feet of playing surface at McCormick Place for the NIT, and 30 Maple Select courts for the USJN at the Walter E. Washington Convention Center allowing for hundreds of games each day. The NIT hosted more than 450 girls' teams from 46 U.S. states and all Canadian provinces along with 600 college coaches, and the USJN is expected to attract 300 teams and 800 college coaches from across the U.S. and Canada.
"We are excited about the ability to supply these events with portable Sport Court basketball courts." Dan Wollman, Director of Commercial Sales. "The Maple Select courts create a very professional look for the venue and provide and excellent basketball playing surface for the athletes, making a convention center basketball tournament available."
Sport Court's basketball courts are engineered specifically to increase performance and safety for the player. In fact, through independent lab testing, our products have been shown to reduce the likelihood of a head injury from impact and to reduce the shock on joints, making it the safest surface for today's youth.
This summer Sport Court basketball courts can be found at convention center basketball tournaments across the United States.
About Sport Court (http://www.sportcourt.com)
As the original modular sports flooring, Sport Court developed and continuously improved modular flooring since introduction 40 years ago, in 1974. Sport Court is the market leader in modular sports flooring and has built systems for many elite associations including the NBA, NCAA, FIBA, USATF and USA Volleyball. We specialize in both wood, synthetic and modular sports flooring and have appropriate solutions for every type of athletic, park or multi-use facility.
Sport Court® is a registered trade mark of Connor Sport Court International. More athletic events are played on Connor Sport Court surfaces than on any other sports flooring in the world.