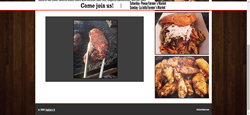 'Corbin's Q is better than North Carolina BBQ. End of story.' - Andy May
San Diego, CA (PRWEB) July 27, 2014
Corbin's Q just got easier to get your hands on, with the Q-Truck. This truck was completely remade with an unbelievable pulley system that lowers the BBQ to the perfect level for the select-wood heat. Pictures of the BBQ are included in this article, but the Q-Truck system is not pictured - for intellectual property reasons.
Corbin's Q-Truck sensation was started when Corbin's Dad suggested that Corbin put some of his engineering background to use and design a unique pulley system. With fire resistant bricking for a base, the Q-Truck enables a grease free base once grilling is completed. Additionally, the Q-Truck is loads of fun to simply watch, with many guests never leaving. This has a lot to do with the food, but also there is not any other truck like the Q-Truck and people have to see it to believe it. Outsanding food delivered in a perfectly engineered method.
Andy May said, "I live in North Carolina, home of the best BBQ on the planet. Interestingly, I was fortunate enough to change my opinion when I was at a party that Corbin was catering. There is no better BBQ in the USA then Corbin's Q. Corbin is a master chef and takes immense pride in making sure the client is happy. The best value in the USA (including North Carolina)".
Corbin's Q is a unique barbecue experience serving the San Diego area. It's True California Barbecue style uses red oak to make mouthwatering plates of meat. Corbin's Q uses the ever growing and famous Santa Maria Style Barbecue. Delicious Tri-Tip that is always cooked to perfection is a specialty for Corbin's Q. Some other favorite menu items also include: beef ribs, linguica sandwiches, and baby back pork ribs. Track Corbin's Q down and check it out.
Corbin's Q caters to small to medium size parties (up to 500 people) and has been in business since 2011. To reach Corbin's Q call 619-516-7009 and ask for Corbin. Corbin's Q has catered throughout the San Diego and Los Angeles areas and references are available upon request. Remember, this is a mouth watering and incredible experience. The unique Q-Truck pulley experience is patent pending. ADRMortgage.com and their staff support Corbin's Q and have experienced this fine product. For more information go to http://corbinsq.com/.