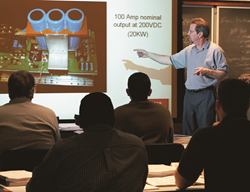 Hanover, NH (PRWEB) July 25, 2014
Hypertherm, a U.S. based manufacturer of plasma, laser, and waterjet cutting systems, is adding several new cities to its 2014 live training tour on advanced cutting topics. Cities added are Dallas-Fort Worth, Tulsa, Atlanta, and Houston. The workshops, valued at $250, are offered at no charge to people who cut metal and other industrial materials.
Dallas-Fort Worth and Tulsa will see Hypertherm's ProNest Power User, a 8-hour training designed for programmers currently using ProNest or anyone wanting a thorough look at the software's capabilities. Hypertherm CAM software experts share advanced, process-specific, programming techniques for plasma, laser, oxyfuel, and waterjet cutting. In addition, they provide tutorials on powerful production tools such as the integration of ProNest to an ERP/MRP system, the synchronization of work order flow and plate inventory, and efficient material utilization. Training dates are July 31 for Dallas-Fort Worth and September 16 for Tulsa. Registration is taking place now at http://www.hypertherm.com/livetraining.
Hypertherm will offer two separate days of training in both Atlanta and Houston: Hypertherm's Advanced Productivity Training on day 1 and ProNest Power User on day 2. The Advanced Productivity Training is presented by Jim Colt, an avid fabricator and 35-year Hypertherm veteran widely known for his expertise on all metal cutting topics. Jim will cover plasma, laser, waterjet, and oxyfuel cutting. In addition, he will show attendees how to properly inspect their plasma consumables, and offer tips aimed at helping companies increase consumable life. Jim estimates operators regularly replace half used consumables, needlessly costing their company money.
Dan McLenithan, a product and application engineer specializing in both CNC and torch height controls, joins Jim for this training which is also 8 hours in length. He covers a number of performance strategies employed by some of the best fabricators and steel service centers in North America. Dates for this set of training workshops are September 17 and 18 (Atlanta) and September 18 and 19 (Houston.) Interested individuals can register for one day of training or both at http://www.hypertherm.com/LiveTraining. Though there is no cost to attend any of these Hypertherm sponsored educational workshops, space is limited to ensure a good presenter to participant ratio.
Hypertherm designs and manufactures advanced cutting products for use in a variety of industries such as shipbuilding, manufacturing, and automotive repair. Its product line includes plasma, laser and waterjet cutting systems, in addition to CNC motion and height controls, CAM nesting software, and consumables. Hypertherm systems are trusted for performance and reliability that result in increased productivity and profitability for hundreds of thousands of businesses. The New Hampshire based company's reputation for cutting innovation dates back nearly 50 years to 1968, with Hypertherm's invention of water injection plasma cutting. The 100 percent associate owned company, consistently named one of the best places to work in America, has more than 1,300 associates along with operations and partner representation worldwide. Learn more at http://www.hypertherm.com.