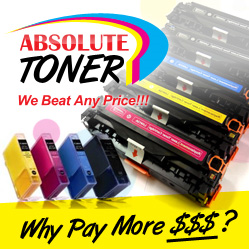 Absolute Toner offers customers two different ways to take advantage of the savings provided by compatible inks.
Toronto, ON (PRWEB) July 27, 2014
Absolute Toner, a leading ink and toner supply company based out of Toronto, now offers ink cartridges that are compatible with Samsung's MLT-D103L. This ink cartridge is used by a number of different Samsung models, including the ML-2950, ML-2950D, ML-2950ND, ML-2951, ML2951D, SCX-4728FD, SCX-4729FD, and the CX4729FW. As a compatible cartridge, this cartridge is rated for the same amount of printed pages but costs a fraction of the brand-name alternative.
Absolute Toner offers customers two different ways to take advantage of the savings provided by compatible inks. The company carries a single compatible black laser toner cartridge that can be used in place of the MLT-D103L in any of the printers listed. The MLT-D103L compatible cartridge offers a yield of 2,500 pages based on 5 percent page coverage. Absolute Toner offers customers who purchase two or more of these or any of the other toner cartridges offered on their website a bulk order discount.
The second option is to purchase a toner refill kit. This kit includes a full cartridge's worth of toner that the user then refills by following the instructions. Refill kits are often cheaper than purchasing an entire cartridge because there are fewer materials involved; however, some users are not comfortable refilling toner cartridges. The toner refill kit includes two bottles of toner. Currently, the company is offering a free third bottle of toner to customers who purchase this refill kit.
Customers who have never used a compatible toner cartridge may be uncertain about their use. However, the compatible cartridges offered by Absolute Toner are designed for specific models and are completely safe for use in the printer models listed. The company offers only the highest quality products. These compatible cartridges are only compatible with a small number of printers so that there is less of a chance of a print issue. Ink cartridges that are compatible with a wide variety of different printers often aren't fully compatible with any of them. This can lead to poor print quality or even cause damage to the print head.
In addition to offering bulk discounts, Absolute Toner also offers a rewards program to customers who anticipate frequently ordering from the website. The program is free to join. As customers purchase compatible toners and inks from Absolute Toner, they will earn points that can be used for discounts on orders. Free shipping is also available on select orders.
About Absolute Toner:
Based in Toronto, Absolute Toner has been providing replacement cartridges to individuals and companies for many years. These replacement cartridges match or exceed the quality of the original brand cartridges, but cost only a fraction of the price. Visit http://www.absolutetoner.com to learn more about using compatible ink in printers and to purchase products.