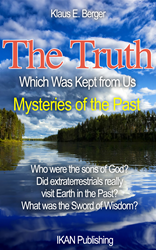 (PRWEB) August 12, 2014
What if the true message of Jesus was concealed behind dogma? What if what he was really conveying was a message of life and love, quite unlike the many interpretations often preached in his name? Author Klaus E. Berger presents this convincing argument in the context of world religions and folk tales about extraterrestrial visits to earth, in his recently released "The Truth Which Was Kept from Us: Mysteries of the Past". This thrilling and status quo-shattering wake-up call is being met with a passionate response from early readers who may turn it into the viral hit of the year.
"The whole of the so-called Christian world is founded on a bigoted and distorted version of all that was originally wondrous and genuine. It is shocking that this could have happened," commented the author. "What was once the unimpeachable doctrine of love, has been transformed the world over, into religious ceremony and superstition."
According to Berger, "The Truth Which Was Kept from Us" reveals an ancient gospel, discovered 107 years ago, which can completely change a person's thoughts regarding faith and love. If enough people open their eyes to its truth, it could shake up the world for the better.
At close to 350 pages and set at a very attractive price of only $3.99, this is clearly a book published as an act of love, rather than for money or fame. Readers have picked up on the sincerity of the message and have been reviewing it across Amazon and other review sites with enthusiasm.
Recently, in a five star review, John Phiser said, "With an open mind was how I approached this book, not really knowing exactly what it was going to contain, or how the information and opinions would be put forward... What Klaus Berger has to say is truly fascinating whether you're a believer or a skeptic and his conviction is compelling. I was shocked to find out that, as early as the first century, early Christian writings were being destroyed as they were 'inconvenient' for the established Church in its scramble for power, and that so much more material exists that has not even been properly studied, whereas the four gospels of the Bible have been looked at in minute detail and interpreted in a myriad of ways. Trying to find out more about this material is a challenge that the author has taken on, and the door is now at least open for the rest of us to take a peek. Well done, Mr. Berger."
For more information or to order this book, be sure to visit http://www.amazon.com/dp/B00IZ1W9OG.