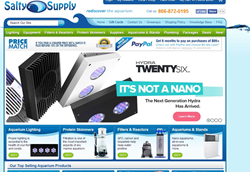 We are now producing video in house with professional producers
Altamonte Springs, FL (PRWEB) July 26, 2014
According to a recent study conducted by Nielsen Research, more than 90 percent of online shoppers found video helpful in making purchase decisions, and thanks to the new videos Salty Supply is now producing, customers will now have the visual help they need to help decide whether to buy or not.
"We are now producing video in house with professional producers," said Richard Gilliland, ceo and spokesman for Salty Supply, an online retailer of discount aquarium supplies.
Salty Supply's decision to empower its customers with product videos could prove to have perfect timing.
According to a recent study by Comscore, 64 percent of video viewers are more likely to make a purchase in an online store after viewing a video.
In addition, 52 percent of consumers say that watching product videos makes them more confident in online purchase decisions.
"We are going to publish three to six videos per month on how to's, product spotlights and promotions," Gilliland noted, before adding, "We are going to educate our consumers so they can make a smart purchase. We will also raise awareness on proper husbandry of aquariums to make our market more sustainable."
In fact, the first three videos, according to Gilliland, will be Aqua Illumination Hydra 26, Kamoer Dosing Pumps and Waveline Pumps.
As to how customers rate Salty Supply's products and services, one customers gave the company two thumbs up before revealing that Salty Supply has by far the most competitive prices for aquarium supplies such as high-end LED lighting fixtures and protein skimmers.
"I am very excited having just placed my first order with Salty Supply and hope to purchase more products from them in the future," he said. "The fact that Salty offers free ground shipping on orders over $175 is an incredibly generous bonus. I'm so glad I found this merchant."
About Salty Supply
Salty Supply is an online retailer of discount aquarium supplies selling thousands of products including protein skimmers, filters and reactors, lighting equipments, plumbing supplies and much more.
They ship their products worldwide through UPS and USPS Express.