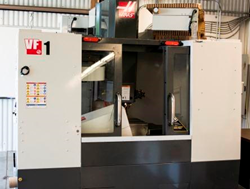 This high-quality training on state-of-the-art equipment is designed to help bridge the 'skills gap' for employment in advanced manufacturing.
CUMBERLAND, Md. (PRWEB) July 31, 2014
In response to a national shortage of computer numerical control machinists, Allegany College of Maryland plans to offer manual and CNC machinist training this fall.
This high-quality training on state-of-the-art equipment is designed to help bridge the "skills gap" for employment in advanced manufacturing.
Jobs for CNC operators are projected to grow faster than average, from 15 to 21 percent, according to O*Net OnLine, the Occupational Information Network developed under sponsorship of the U.S Department of Labor/Employment and Training Administration.
ACM's Center for Continuing Education developed the CNC machinist training with support from the Appalachian Regional Commission. Needed equipment was purchased with a $93,000 federal grant. ACM provided equivalent support.
Geared to highly motivated students, the program teaches well-rounded skills for entry-level positions in industries needing manual and CNC machinists.
Students who complete the training are qualified to earn the industry-recognized National Institute for Metalworking Skills, or NIMS, credential. As it is designed to teach skills for successful manual and CNC machining, college credit is not awarded.
The extensive hands-on training is divided into six 100-hour sections. The first 200 hours, developed for the beginning machinist, start with manual machining and an introduction to CNC machining.
Classes cover the following: Introduction to Machinery, Measurement, Materials and Safety; Measurement Systems and Machine Tool Math; Semi-Precision Measurement; Precision Measurement; Quality Assurance, Process Planning and Quality Control Introduction; Metal Composition and Classification; Heat Treatment of Metals; Maintenance, Lubrication and Cutting Fluid Overview; Job Planning, Benchwork and Layout; Drill Press; Manual Turning; and Manual Milling.
Students will learn how to understand drawings, basic symbols and notations, and also how to interpret basic GD&T feature control frames. Critical thinking and problem solving are emphasized.
First-year students will attend the first 200 hours from 5 to 9 p.m. Tuesdays and Thursdays in a six-month period starting in September. A second beginning section, if needed, will start in March.
Beginning machining students will have the opportunity to earn up to seven NIMS credentials in level-one machining. These are in measurement, materials and safety; job-planning, benchwork and layout, manual milling skills; turning operations: turning between centers; turning chucking skills; grinding skills; and drill press skills.
The remaining 400 hours in the training focus on CNC machining. Experienced manual machinists can test directly into CNC Program: Setup, and Operation Training. Students seeking direct entry must provide proof of experience.
The 400-hour CNC program, which also begins this fall, includes the following topics: CNC Basics; Introduction to CNC Turning; CNC Turning: Programming; CNC Turning: Setup and Operation; Introduction to CNC Milling; CNC Milling: Programming; CNC Milling: Setup and Operation; and Computer-Aided Design and Computer-Aided Machining.
Classes meet from 5 to 9 p.m. Mondays, Wednesdays and Fridays starting in September and continuing through May.
Advanced machining students have the opportunity to earn up to four additional NIMS level- one credentials in programming and set-up operations and operator responsibilities in milling and turning.
Students who place into the advanced class will still have the opportunity to test for the seven preceding NIMS certificates. For more information on NIMS visit http://www.nims-skills.org.
Scholarship monies are available to help offset the cost of each course. For more information contact Rebecca Ruppert at 301-784-5338 or rruppert(at)allegany(dot)edu. Enrollment is limited to 10 students in each course.