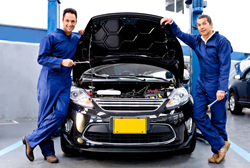 Burbank, CA (PRWEB) July 28, 2014
Business Insurance USA today announced the availability of new commercial insurance lines specifically designed for mechanic shops and garages. The new insurance options include affordable combinations of general liability, business owners insurance and garage keeper's liability coverage. The combination of these types of business insurance coverage offer broad levels of legal and financial protection for mechanic shops, at prices they can afford.
"Mechanic shops and garage owners provide valuable services to their customers and communities," stated Gary Fisher, the Executive Director of Business Insurance USA, "yet when things go wrong, they are the first to receive blame. Since the garage owner has his customer's property on hand for extended periods of time, there is an increased risk that something may happen to the vehicle while it's on the premises. Likewise, people can get hurt just by walking around the shop because they're not familiar with safety around machinery. These and many other risks are why we've created this comprehensive coverage option, so that shop owners can continue offering their expert services without fear of excessive risk."
The three primary forms of protection now being offered through Business Insurance USA include General Liability, Business Owners Insurance, and Garage Keepers Liability.
General Liability insurance is commercial protection for when accidents happen. It covers physical injuries if the mechanic shop is found to be liable for a person hurting themselves on or around the business premises. It also pays for personal property damages, advertising or personal injuries, and property damages that occur to premises that the business is renting or leasing. General liability insurance pays for reasonable legal expenses that arise due to the mechanic shop defending itself against covered events. It also pays settlements or court ordered judgments if the garage is found liable for the accused events.
A Business Owners Policy, or BOP, helps protect mechanic shops and garages from financial losses caused by damage or destruction of the physical assets the company owns. If, for example, the garage's BOP covers them against extreme weather events and a storm tears off a portion of the shop roof, the BOP helps pay for the roof repairs. If shop equipment or inventory was damaged as well, the Business Owners Policy will also pay for the repairs or replacements of those items.
Garage Keepers Liability insurance helps protect the garage owner from losses that may happen to customer's vehicles while they are in the garage's possession for maintenance and repair.
About Business Insurance USA
Business Insurance USA specializes in providing a wide variety of commercial insurance protection options to numerous industries. Based in southern California, they are licensed to provide insurance to companies in twenty different states. Some of the flexible coverage options they offer include workers compensation, commercial auto insurance, general liability, professional liability and business owners policies.
For more information, visit http://www.businessinsuranceusa.com.