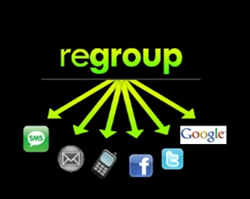 "[Regroup] is an affordable, one stop shop solution for all our messaging needs." - Fredrick Rocha, NOCCCD
San Francisco, California (PRWEB) July 29, 2014
Encompassing around 155 square miles, the North Orange County Community College District (NOCCCD) consists of three major campuses along with numerous other specialized locations around the District. With an enrollment of over 61,000 students and more than 2500 employees, NOCCCD was in need of a more effective way for its district office and multiple campuses to communicate - both on a day-to-day basis and during an emergency situation.
Fredrick Rocha, District Manager, IT Applications Support with NOCCCD, said, "Our previous system took a long time to complete message delivery. We were dependent on the telecoms for delivering SMS messages and we often found that our messages were viewed as spam or were throttled due to the volume of messages being sent. We also had to use several systems to get messages out depending on the type of message we need to send. Regroup changed all that for us. It is an affordable, one stop shop solution for all our messaging needs."
There were several key factors that led to NOCCCD selecting Regroup for their emergency and mass communication needs versus the solutions offered by other providers. This included:
+ Integration with Banner® by Ellucian
+ Pricing and Speed of Message Delivery
+ Quality and Variety of Messaging Options
Furthering its strong commitment to campus safety, during an emergency NOCCCD will utilize Regroup to quickly reach students and staff across multiple communication channels, such as mobile phones, landlines, email and social media - to reach them anytime, anywhere and on their preferred device. With Regroup offering unlimited user groups, NOCCCD will now have the ability to easily send targeted alerts to one or more of its campuses, and: "The best part is we know Regroup will be there to support us," added Rocha.
"We are very excited to provide NOOCD with the cost-effective, robust mass communication solution they need to more easily and efficiently communicate with students and staff," said Joe DiPasquale, CEO of Regroup.
Rocha further commented on the partnership with Regroup by saying, "There is a vibrancy to the organization that comes across when working with them. The energy and enthusiasm is contagious."
For a Live Demo of Regroup's platform, sign up here: http://bit.ly/1nzIek8.
About Regroup:
Regroup, the leading provider of Emergency Notification and Mass Communication solutions, was founded at Stanford University in 2006 to solve the need the university had for easy, effective multi-modal messaging. Regroup offers an intuitive interface with one-click messaging to mobile (text/voice), landlines, email, social media, websites, and more. Regroup stands apart from other messaging systems with its ease of use, seamless integration with social media and client databases, unparalleled reliability, and unlimited text/voice/email messaging. Regroup offers clients free 24/7/365 day a year support and saves clients money - on average 50%. Regroup currently serves government clients such as the City & County of San Francisco, educational institutions, non-profits and businesses.
To learn how Regroup's Emergency Communication System can streamline your organization's day-to-day communications and provide rapid notifications during a crisis situation, please call 917-746-6776 or email us at inquiries(at)regroup(dot)com.